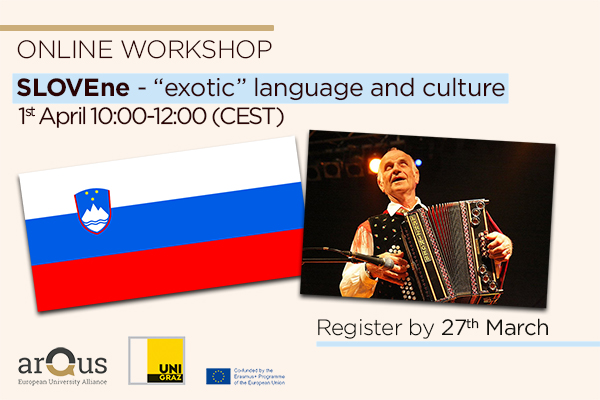 The University of Graz organises the workshop SLOVEne – "exotic" language and culture
University of Graz
|
22 Mar 2022
Next 1st April, the University of Graz organises the workshop SLOVEne – "exotic" language and culture aimed at providing a very first introduction to the Slovene language and culture. Arqus academics are invited to participate in this workshop and learn in an interactive way some basic words and expressions, including grammar specials (mini crash-course). Participants will also get acquainted with the culture, history and geography of SLOVEnia.
There are no prerequisites for this course, but participants are asked to join in with their microphone and computer camera on.
Target group: All interested academic staff members of the Arqus Alliance partner universities.
Workshop leader: Tatjana Koren and Laura Fekonja Fonteyn, Institute of Slavic Studies, University of Graz.
Date and time: 1st April 2022, 10:00-12:00 (CEST).
Please register here by 27th March 2022.
Workshop format: Online (Zoom). Participants will receive an invitation to a Zoom meeting in a timely manner.
Fee: The workshop is free of charge for staff members of the Arqus Alliance partner universities.
Contact: For any enquiries, please contact Simone Klinge at simone.klinge@uni-graz.at
Please note: In order to ensure the quality of the session and for the benefit of the participants, the number of participants for this workshop is limited to a maximum of 14. There are 2 workshop places per partner university and these will be allocated on a first-come, first-served basis. If there are less than 2 registrations from one university, the remaining places will be allocated in list order regardless of affiliation to a partner university.
The Arqus workshop series on language and cross-cultural competence is offered in the framework of Action Line 4 Multilingual and Multicultural University (sub-line 4.5), led by Leipzig University. These workshops target academic and administrative staff at partner universities and focus on specific topics such as working and teaching through the medium of English, intercultural awareness in the classroom and outside, and inclusive language.