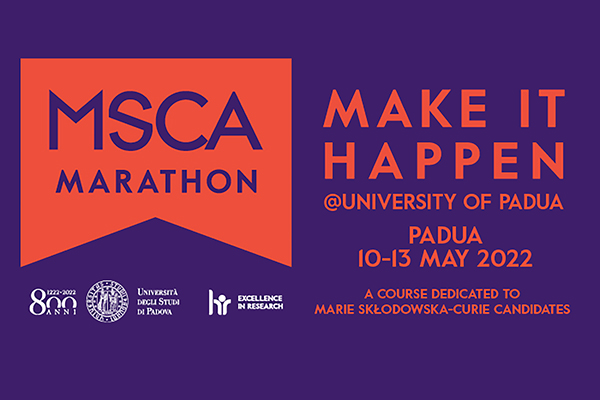 The University of Padua holds a new online edition of the MSCA MaRaThoN
University of Padua
|
22 Mar 2022
The University of Padua invites all Arqus researchers to participate in the new online edition of the MSCA MaRaThoN@University of Padua – Master your Research and Training Needs from 10th to 13th May 2022.
This programme is addressed to and designed for top researchers willing to submit a Horizon Europe – Marie Sklodowska-Curie Postdoctoral Fellowship with the University of Padua as a Host Institution. The training focuses on writing a successful proposal.
The course is open to 40 participants. There are no age or nationality restrictions. In order to be admitted to the MSCA MaRaThoN, candidates must meet the following requirements:
Possess a PhD at the MSCA-PF closing date: 14th September 2022.
Have up to max. 8 years of research experience after PhD (exceptions according to MSCA-PF rules).
Comply with the MSCA mobility rule.
Commit to compete in the forthcoming MSCA-PF 2022 Call for applications, choosing the University of Padua as the Host Institution for their project.
The application deadline for MSCA MaRaThoN@University of Padua is 31st March 2022 at 13:00 CEST. For more information, please download the announcement of the MSCA MaRaThoN funding initiative. Additionally, all relevant information regarding the application is available at the following link.
For any further inquiries, please contact mariecurie.marathon@unipd.it.