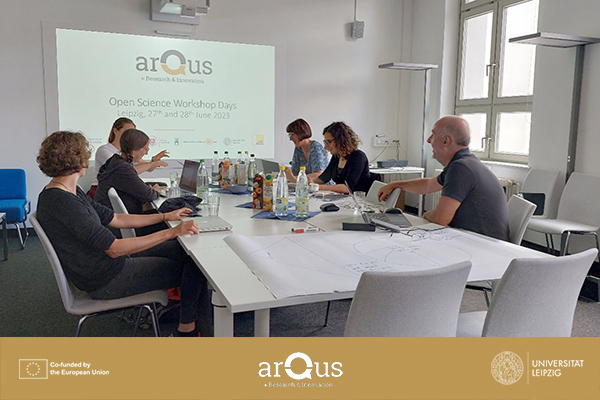 Arqus Open Science Days in Leipzig: Empowering researchers for embracing openness
Members of the Arqus Research & Innovation project (Arqus R.I.) working on the Open Science Agenda met for a very fruitful two-day workshop at Leipzig University on 27th and 28th June 2023.
The objective of the meeting was to work on the design and elaboration of new Open Science (OS) training materials. The final goal is to provide Arqus researchers with a good entry point for OS activities and motivate them to incorporate openness into their daily work.
In addition, the Arqus R.I. team has developed, and now they want to make available, a collection of curated information and training offers at Arqus universities and beyond as well as Open Science promotion videos and a best practice collection based on the experiences of the Arqus Open Science Ambassadors.
The participants from the Arqus partner Universities of Graz (Daniela Pichler), Leipzig (Barbara Weiner and Pia Voigt), Lyon 1 (Laura Bousquet and Laure Dartiguepeyron) and Padua (Tullio Vardanega) focused on the skills that researchers should have to practice Open Science considering quality-based research assessment criteria. The basis for defining a skills matrix will be adopted from the results and reports regarding the development of new research assessment criteria from the Arqus R.I. work package "Alternative Assessment Approaches".