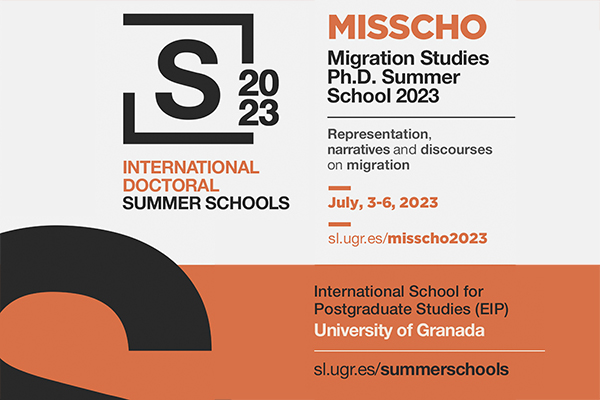 Participate in the Granada MISSCHO – Migration Studies PhD Summer School 2023
University of Granada
|
21 Jun 2023
The University of Granada invites Arqus PhD students to its Migration Studies PhD Summer School (MISSCHO) 2023 that will take place from 3rd to 6th July 2023. 5 PhD students coming from Arqus universities will be admitted in the School and they will benefit from a tuition waiver.
The main goal of the Migration Studies PhD Summer School (MISSCHO) 2023 is to provide an intensive program that enhances the research exchanges among the group of universities participating. It aims at bringing together researchers who are working on migration-related issues from different disciplines in the Humanities and Social Sciences.
The School will focus on the following subjects:
How discourse and identity are formed in migration studies.
How the migrants' experiences are represented and construct new perceptions and narratives.
Which perspectives and methodologies navigating between traditional Critical Discourse Analysis (CDA) perspectives and other combined approaches produce new understandings of discourse on migration.
The organisers invite Arqus researchers to submit contributions focusing on (but not exclusively) the themes listed below:
Media discourse on migration.
Migrants' personal narratives and public discourse.
Political discourse on migration and integration.
Roles of language(s), culture(s) and social networks in shaping diasporic identities.
Legal discourse on unaccompanied minors.
Gender representation in migration studies.
(Re)shaping research paradigms and methodologies in migration studies.
Considering the different topics that the PhD students are developing in their studies, the common concern on methodologies, categories and approaches of analysis will be the main instrumental focus. Students will work in teams and prepare presentations to debate on.
Multidisciplinary approach
The Migration Studies PhD Summer School offers a multi-disciplinary and international approach on migration studies, with four main lines of research in which the candidates are inserted:
Social psychology analysis of migration.
Cultural and gender analysis.
Legal and socio-political analysis of migration: Welfare State and management of diversity.
Globalization and human mobility: migration and labour market.
The programme of the School involves more than 60 teaching researchers, from different fields (Political Science, Sociology, Law, Geography, History, Economics, Anthropology, among others) working on migration issues as main area of expertise. It will include a range of academic activities such as: lectures (opening and closing lectures), academic and social roundtables, a documentary screening as well as PhD Workshops.
Learning modalities
In-person modality for teachers and students on Granada campus. Online modality (100%) will be an exception in case that the in-site activities were not allowed by justified causes (visa, student's economic situation, illness, etc.). Zoom links to on-line sessions will be provided exclusively to those whose online attendance is approved.
Who can apply?
Among 20-25 outstanding PhD students will be admitted. PhD students in the early stage of their PhDs, who are still designing or have recently submitted their research proposal. In order to obtain a certification, students should attend and participate in (at least) the 80% of the activities developed.
Key dates
The application deadline has been extended until 26th June 2023. Acceptance and further steps will be notified by 26th June. Applicants must pay the registration fee by 30th June 30.
Tuition
The tuition fee for the program is 100€ (the fee covers a welcome kit with all course material). The Institute for Migration Research and the PhD Programme in Migration Studies will consider tuition waivers to outstanding PhD students. They will be granted on a bases of academic merit and considering geographical and gender balance.
Students that fit the requirements and would like to ask for the tuition waiver should fill out the option in the application form and indicate a justification of their motivation through an additional motivation letter entitled: Why I am requesting the tuition waiver.
5 PhD students coming from Arqus universities will be admitted and they will directly benefit from the tuition waiver.
Living and travelling expenses
The Institute for Migration Research and the PhD Migration Studies Programme will offer up to €300 to students from abroad to cover their living and travelling expenses. It will be provided after the summer school and completion of (at least) the 80% of the activities developed. Further measures will be notified once enrolment has been concluded.
How to apply?
You must fill out the Application Form and provide all documents requested on the brochure. Documents must be sent to: migraciones@ugr.es (Subject: SUBMISSION MIGRATION STUDIES PhD SUMMER COURSE 2023).
For more information about the scientific directors, scientific committee and research groups involved please visit this website. For questions and requests please contact migraciones@ugr.es.