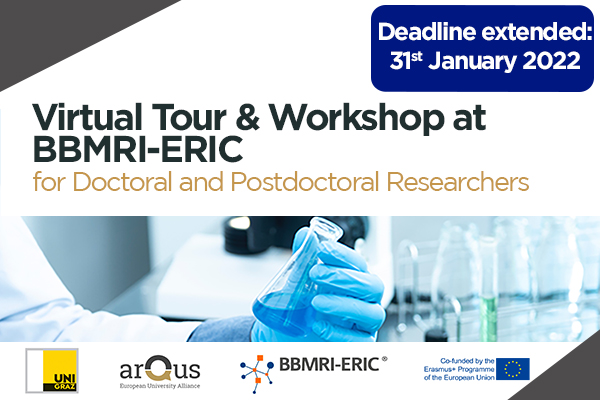 The University of Graz organises a Virtual Organizational Tour and Workshop for Doctoral and Postdoctoral Researchers at BBMRI-ERIC
The University of Graz offers a virtual organizational visit and a workshop for doctoral and postdoctoral students in biomedical research careers at BBMRI-ERIC, one of the largest research infrastructures in Europe. This activity is organized within the Arqus Alliance actions for PhD employment support.
BBMRI-ERIC's main purpose is to bring together main players from the biobanking field – researchers, biobanks, industry, and patients – to boost biomedical research. BBMRI-ERIC offers quality management services, support with ethical, legal and societal issues, and a number of online tools and software solutions.
The call is open for early-stage researchers of all Arqus universities. The virtual visit could be relevant for researchers from the fields of bioethics, ethics, law, social sciences, IT, biobanking, pathology, genomics, bioinformatics and quality management and policy, among others.
Date: Tuesday, 1st February 2022, from 13:00 to 17:00 (CET).
Programme:
– Organization tour (13:00 – 15:15): Presentations from the following units: Ethical, Legal and Societal Issues (ELSI); Quality Management; IT; Outreach, Education & Communications; Public Affairs, Biobanking Development.
– Break (15:15 – 15:30).
– Workshop Breakout rooms (15:30-16:30): Discuss issues arising in the organization and how to solve them using a multidisciplinary approach.
– Discussion (16:30 ): Plenary discussion of workshop issues, wrap-up and feedback.
*Attendees based in Graz are invited to our office for a coffee before or after, COVID-permitting!
Registration:
Register via email to doctoral-academy@uni-graz.at until 31st January 2022. A short CV (max. 1 page) needs to be submitted at the time of application. The link to the virtual platform will be sent in due time.
Selection procedure:
"First come first serve" with a maximum of 30 participants.