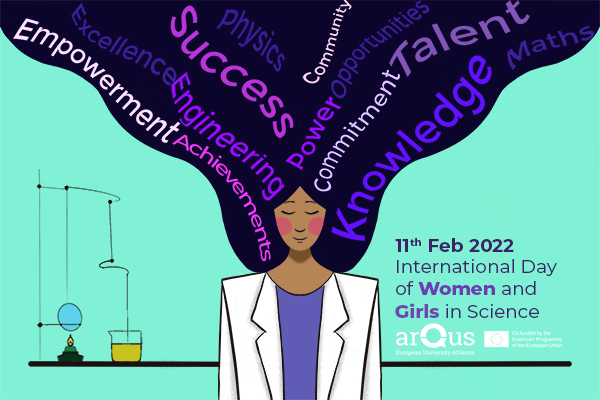 11th February: a reminder of the crucial role of women and girls in science and technology
"Representation of the world, like the world itself, is the work of men; they describe it from their own point of view, which they confuse with the absolute truth", Simone de Beauvoir.
From the UN website: "Science and gender equality are both vital for the achievement of the internationally agreed development goals, including the 2030 Agenda for Sustainable Development. Over the past 15 years, the global community has made a lot of effort in inspiring and engaging women and girls in science. Yet women and girls continue to be excluded from participating fully in science… In order to achieve full and equal access to and participation in science for women and girls, and further achieve gender equality and the empowerment of women and girls, the United Nations General Assembly declared 11 February as the International Day of Women and Girls in Science in 2015".
Women accounted for about one in three (33%) researchers in 2018. They have achieved parity (in numbers) in life sciences in many countries and even dominate this field, in some cases. However, women remain a minority in digital information technology, computing, physics, mathematics and engineering. These are the fields that are driving the digital revolution and so, many of the jobs of tomorrow. Few young women still enrol in Engineering: this is mainly due to the central role of gender stereotypes which can affect the choice of university, and which are so widespread that it is considered a natural fact that there are still few women in science.
The term stereotype was coined in 1798 by a French printer named Didot, and referred to printed copies on pressed paper. In 1922 W. Lippmann applied it to public opinion, referring to the fact that people often resort to simplifications in order to orient themselves in an unfamiliar context. Stereotypes help us to deal with a different or unknown world and become central when this world is threatened.
A very common stereotype concerns the alleged inability of women to deal with logic and mathematics. Many scientific studies have shown that women's supposed inferiority is not due to a difference in the brain between the two genders, but is itself a prejudice (cf. Ceci et al., 2009). Recently, research has been conducted by three American women scientists concerning gender differences in the brains of girls and boys during development when dealing with learning and the use of mathematics (Kersey et al, 2019). Based on experimental data collected in the boys and girls under study, they showed that neural functions related to understanding mathematics are similar between genders. In the face of these established scientific findings, prejudice against women's scientific creativity persists among many males, including quite a few researchers.
Girls must face the challenges of the future, to have increasingly transversal skills, to assert a culture of gender equality for an inclusive and sustainable society. Greater access by girls to STEM (Science, Technology, Engineering, Mathematics) disciplines can really reduce the existing gender gap. This connection between girls and STEM becomes very interesting if declined in the perspective of sustainability of Goal 5 – Achieve Gender Equality and empower all women and girls – of the 2030 Agenda (Xausa et al, 2020).
Within Arqus several partners already have initiatives up and running to address the issue of the low number of young women attracted to and entering STEM disciplines worldwide (e.g. "Quiero ser Ingeniera" in Granada). Action Line 2 "Widening access, inclusion and diversity" with its dedicated task force "Women to STEM" is at work to share these initiatives and to create guidelines for further local action, as foreseen in the three "Charters for Gender Equality, Inclusion and Sustainability" (under development) which represent the foundations of the Alliance.
In training events and materials developed in Arqus, in particular for future primary and secondary education teachers, careful attention is devoted to gender-related issues, through awareness-raising and facilitating resources. Arqus partners have participated actively in various events involving leading women scientists and engineers as role models, such as the webinar and the academic debate organized by the task force "Women to STEM" during the initiatives developed to celebrate the 2021 International Day of Women and Girls in Science.
News created by Silvana Badaloni and Benedetta Zatti (University of Padua).