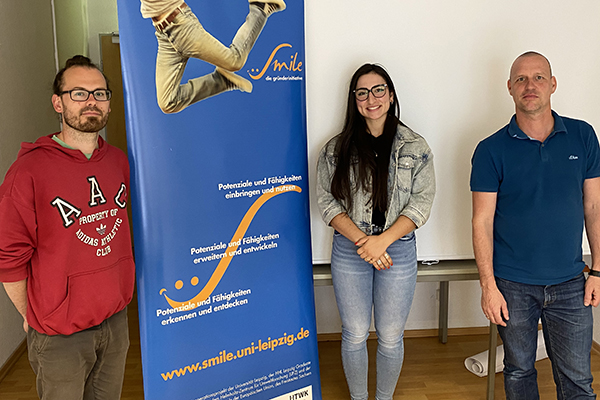 Start-up founder from Lyon visits Leipzig in the framework of the Arqus ISLYE Programme
In the framework of the Arqus ISLYE (International Soft Landing for Young Entrepreneurs) Programme, the French start-up "Alegria" visited SMILE, the start-up initiative of Leipzig University, from 4th to 11th June 2022.
The ISLYE Programme aims to encourage student entrepreneurs to engage in international exchange, for example through mobility offers such as Alexia Perez Miviere's visit to Leipzig. The entrepreneurs are supported in developing their internationalisation strategy in the form of partnerships with incubators like SMILE.
With "Alegria", Alexia Perez Miviere wants to enable interested customers to bury beloved pets or even people after their death in an urn from which a tree or other plant grows as a symbol of remembrance.
In Leipzig, the French entrepreneur had an immersive and collaborative week. In addition to exploring the city, the Programme included talks with the local SMILE start-ups "WeCreate", "Eye-Able" and "Disaster Relief Systems". She also presented her project to animal and human undertakers, who were able to provide information about the market potential of her business idea based on their own many years of market expertise. The founder from Lyon was also able to ask potential buyers for their opinion. When she arrived in Leipzig, the "Wave Gothic Treffen" was taking place and Alexia Perez Miviere was not only amazed by the costumes and the festival, but also got to talk to many participants about her business idea. She says about her time in Leipzig: "I loved the fact that the mobility included professional meeting, scholar meetings, and city discovery. It was the perfect balance to enjoy the mobility. Thank you again for this exchange!".
News prepared by Josephine Petzold, International PR, Leipzig University.