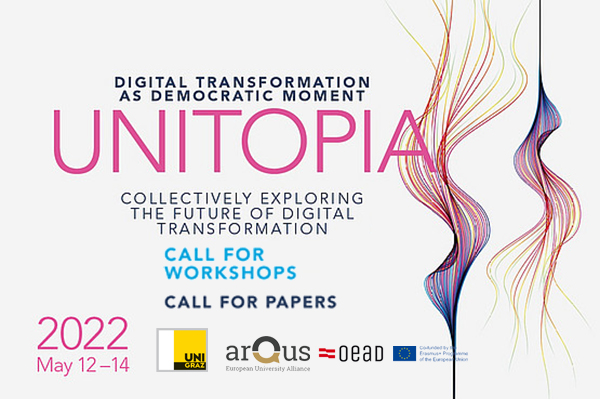 University of Graz calls Arqus young researchers to participate in the Unitopia 2022 Conference on digital transformation and democracy
New forms of information technologies have always been tightly linked with the development of political systems. Digitalisation poses a grand challenge, as it questions and challenges the ways how democratic systems and their institutions are working to this day. The University of Graz is organizing the Conference Unitopia – Digital Transformation as Democratic Moment from 12th to 14th May 2022.
For three days, experts will discuss how digital technologies are threatening or damaging modern democracies and, more interestingly, how we can shape digital technologies and the innovation systems that make them in a way that could actually benefit our democratic societies. This approach goes beyond a traditional understanding of politics, raising the question of what processes, infrastructures, and institutions are necessary to enable and foster democratic systems in the digital age.
The Conference, organized in cooperation with the Arqus Alliance, aims to provide young researchers with an opportunity to present their work to a larger community and will be accompanied by keynotes from well-known researchers, workshops on different topics focusing on interaction, knowledge creation and networking, and transfer events. The Conference language is English.
1. Call for abstracts
At the upcoming Unitopia Conference, we aim to open a discussion about the risks, but also the potential that digital transformation brings for our democracies. What forms of regulation, or governance are necessary to align digital technologies with a common good? How would we envision future digital democracies? These are just some questions we want to tackle at the conference. We understand the digital transformation as a democratic moment. It forces and enables us to rethink and reconceptualize how we understand democracy in the digital age.
The call for abstracts is open until 3rd March.
We welcome contributions from various disciplines and fields, such as, but not limited to, political science, computer science, law, sociology, economics, science and technology studies, information science, etc. Participants will receive information on the acceptance of their contribution by 13th April.
All contributions will be published in the online proceedings of the conference. Selected contributions will be offered to participate in a special issue/edited volume of the conference.
2. Call for workshops
At the conference, we want to go beyond the classical panel discussion. As part of a more in-depth discussion and community building the conference also hosts different workshop formats at the conference.
Conceptual and academic workshops are aimed at discussing specific challenges and issues and providing a space, where explorative research is enabled.
Skills Workshops are envisioned as a transfer and training area, where young scholars are learning often implicit or unaddressed skills needed to survive in the academic landscape.
To foster an in-depth conversation about digital transformation as democratic moment, we invite workshop contributions for Unitopia. The workshops should take 1,5h and address one of the two described formats. We especially encourage creative and innovative approaches that exceed standardized workshop formats. The number of participants is limited to 25 persons per workshop due to room capacity.
The call for workshops is open until 3rd March. Participants will receive information on the acceptance of their contribution by 13th April.
For more information, you can visit the Unitopia Conference website.
Participate in this great event and explore the future of digital transformation!