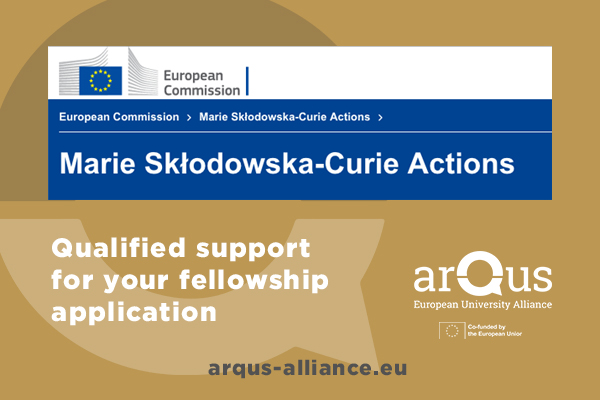 Apply for a Marie Skłodowska-Curie Postdoctoral Fellowship at one of the Arqus Universities!
Leipzig University
|
18 May 2023
The Arqus Alliance invites talented and motivated researchers to apply for the Marie Skłodowska-Curie Postdoctoral Fellowships (MSCA-PF) at one of the Arqus Universities as a host institution.
MSCA-PF is among the flagship, most prestigious research fellowships in Europe, with the objective of supporting researchers' careers, enhancing their creative and innovative potential, and fostering excellence in research.
This action targets researchers holding a PhD who wish to acquire new skills through advanced training, international, interdisciplinary and inter-sectoral mobility and implement original and personalised research projects. Applications are made jointly by the researcher and a host institution. Researchers of all ages, nationalities and scientific disciplines can apply.
The application deadline is 13th September 2023.
Important information: The candidates should have defended their PhD thesis already or plan to do so before 13th September, and have spent less than 8 years of full-time equivalent in research since their PhD.
Application at one of the Arqus Universities
Arqus aims to increase the joint research capacity of the partner universities by enhancing actual research collaboration within the Alliance and with European and global partners, sharing best practices and resources, fostering joint doctoral and post-doctoral initiatives as the basis for researcher career development, offering training and thus making Arqus an attractive space for talent from around the world.
Qualified support for the MSCA fellowship application is available at each partner university. For more information regarding MSCA-PF at Arqus universities, and to look for a supervisor in your field, start here:
In addition, the Arqus Universities offer workshops to help candidates with proposal writing in May and June. To find out more about these workshops and to register, check out the following website sections:
We will keep updating this webpage with the information of the rest of the Arqus universities.