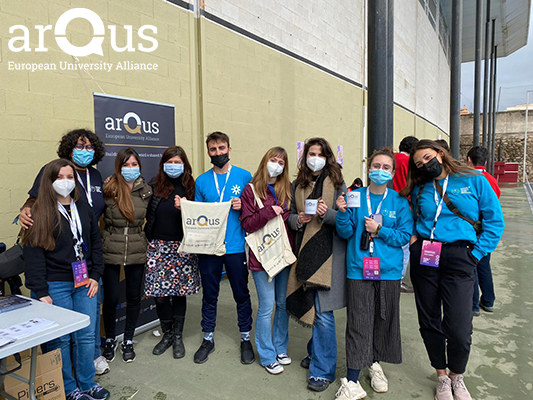 The Arqus Alliance participates in the National Erasmus Games 2022 held at the University of Granada
University of Granada
|
28/Mar/2022
Last 26th March, Arqus participated in the National Erasmus Games (NEG) sports tournament organised by the international Erasmus Student Network (ESN) at the facilities of the University of Granada.
From 25th to 27th March, almost 300 students participated in this world-class sporting event by playing football, basketball and volleyball at the Paseillos Universitarios of the Fuentenueva Campus of this university.
Arqus participated with a stand to raise awareness of the Alliance and the European University initiative among the students from different European countries.
Alex Bertoldi and Catalina Vasian, president and active member of ESN Padua respectively, as well as some Erasmus students coming from the University of Wroclaw (member of the Alliance from late 2021), participated in this annual event.
The inauguration of the Games was presided over by Rector Pilar Aranda. The winners will represent ESN Spain at the International Erasmus Games (IEG) to be held in Coimbra, Portugal, from 12th to 15th May 2022.