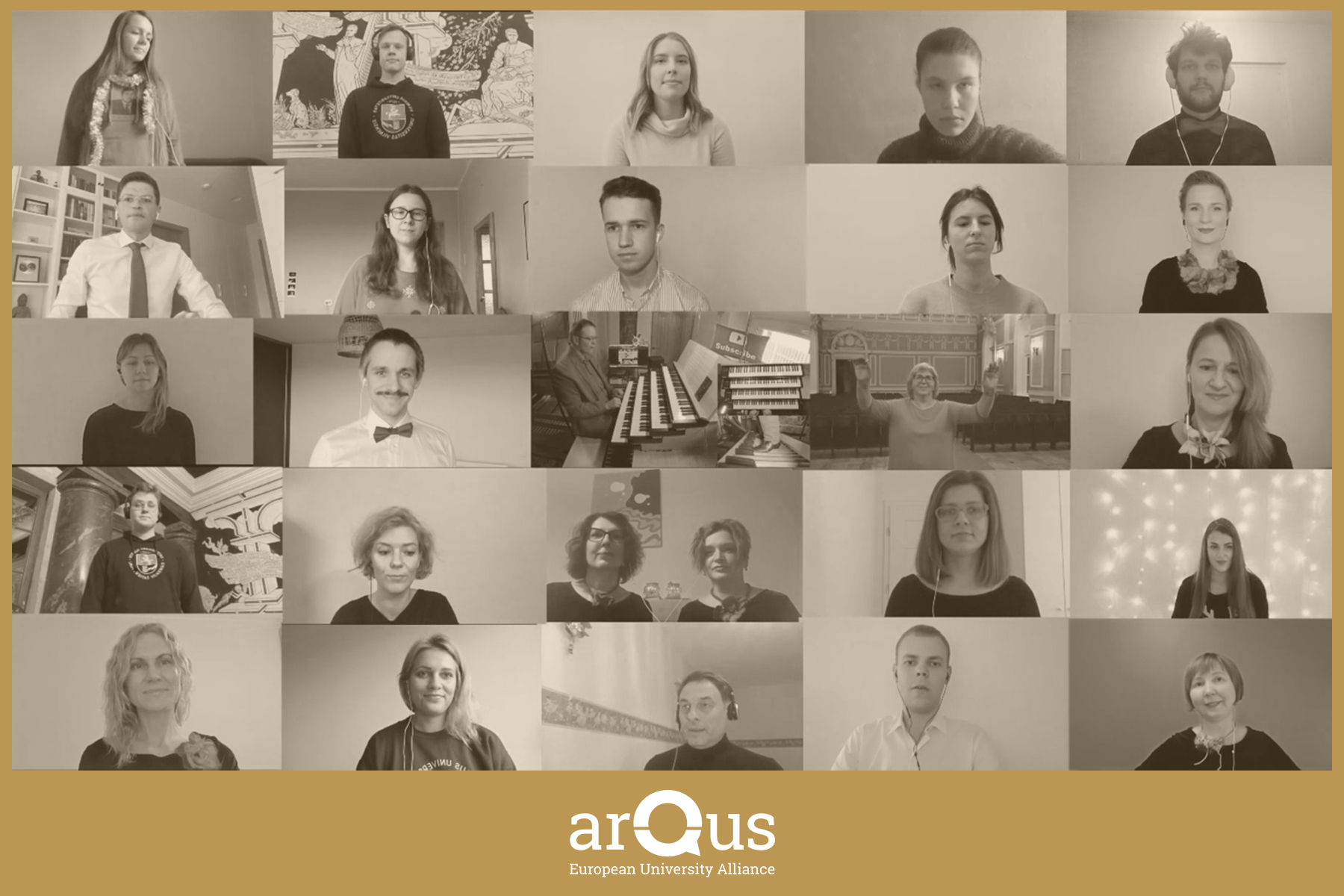 Arqus produces the first video concert of the Alliance choirs to greet the festive season
In the light of the pandemic and, thus, the restricted possibilities to practise choral singing, as well as the growing need for artistic expression, the Pro Musica choir of Vilnius University came up with the idea of producing the first video concert of the Arqus Alliance choirs. In this first initiative, four out of the seven universities are represented:
The University of Granada: The Science School Choir (Coro Facultad de Ciencias, artistic director Paco Álvarez), performs academic anthem Gaudeamus Igitur and J. Busto 'Noche Buena del Alma'.
Leipzig University: Leipzig University Choir performs, J. S. Bach's Weihnachtsoratorium BWV 248, Part No. 12 'Brich an, o schönes Morgenlicht' (directed by prof. David Timm).
Université de Lyon: Choeur de la Doua performs 'Riu Riu Chiu' (artistic director Liochka Massabie).
Vilnius University: the Pro Musica, Virgo, and Gaudeamus choirs of Vilnius University (artistic director Rasa Gelgotienė), perform Juozas Naujalis 'Sveikas, Jėzau gimusis' (Hail, newborn Jesus).
The Vilnius University Choir Pro Musica was founded in 2004, and Mrs Rasa Gelgotiene has been its Artistic Director and the main conductor since then. The choir boasts a repertoire of vivacious pieces from different epochs, as well as large works such as W.A.Mozart's 'Requiem', P.Tchaikovsky's 'Liturgy of St. John Chrysostom' and one of the most grandiose classical pieces — G. Verdi's 'Requiem'.
Every year the choir prepares new concert programmes and deepens its knowledge of various musical styles. Since its foundation, the choir has presented audiences with programmes of Renaissance, Baroque, Spanish, and American music, as well as programmes featuring the music of modern composers from northern Europe and Lithuania. The internationally acclaimed choir regularly performs in Lithuania, as well as abroad; it has given concerts in Spain, Italy, Russia, Ukraine, Cuba, Mexico, Georgia, Belgium, Germany, Norway, and the USA.