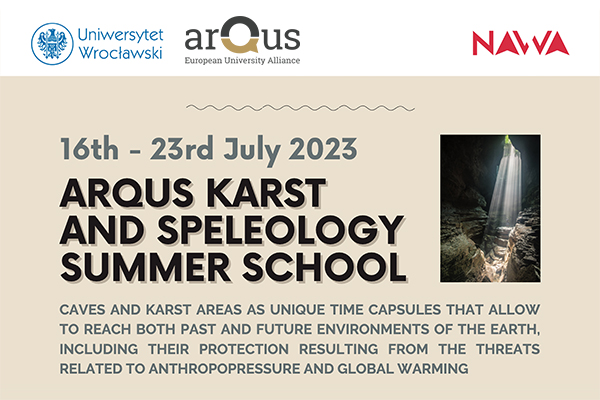 Wrocław organises a karst and speleology summer school for Arqus and Ukrainian students
The University of Wrocław invites students from all universities of the Alliance to participate in the Arqus Karst and Speleology Summer School that will take place from 16th to 23rd July 2023 in Wrocław and Kraków-Częstochowa Upland (Poland).
The School is organised in the framework of the "Arqus for Ukraine" project funded by the National Agency of Academic Exchange of Poland (NAWA) to enable cooperation between Ukrainian and Arqus universities.
The invitation is addressed to Arqus students and for students from Ukrainian partner universities, including the National University of Kyiv-Mohyla Academy, associate partner of the Alliance, which are eager to expand their theoretical knowledge about the karst and most importantly, improve practical skills regarding excavation work. Candidates should come from the following disciplines: biology, geography, geology, archaeology, and environmental protection.
The specific focus of the School is on caves and karst areas as unique time capsules that allow reaching both past and future environments of the Earth, including their protection resulting from the threats related to anthropopressure and global warming. Participants will learn about the methodology of conducting research in caves and karst areas, the principles of documentation, cataloguing, and preparation of animals' remains, and more.
Additionally, during the Summer School, archaeological and paleontological excavations will be conducted in Reniferowa Cave, accompanied by geomorphological and geological studies of cave sediments. Excursions will be organized to show participants selected archaeological, paleontological and geomorphological sites in Kraków – Częstochowa Upland. For students from Ukraine, it will also give them a chance to promote their country and its European aspirations.
Interested students can apply until 30th April by submitting a 500-word abstract about karst, archaeology, palaeontology, or drift geology in their home countries and sending it to paleosummerschool@uwr.edu.pl.
The participants will be required to give a presentation on a chosen subject during their stay to complete the School. All participants are demanded to:
Be vaccinated against tetanus (valid vaccination).
Possess liability and accident insurance.
Inform the organizers about allergies and diseases.
Be in good physical condition.
Please note that only 2 candidates can be accepted from each partner institution. The program covers all expenditures associated with travelling to and staying in the School location, including meals and accommodation. Participants will be provided with pocket money to cover public transportation and other costs.
For more information contact paleosummerschool@uwr.edu.pl and download the programme of the event here: