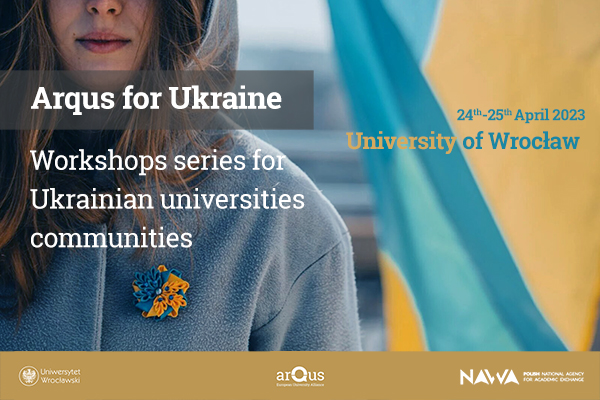 Wrocław hosts today the first Arqus workshops for Ukrainian university management, academic and administrative staff
The University of Wrocław hosts today and tomorrow the first of the three planned workshops addressed to representatives of Ukrainian universities and organised in the framework of the "Arqus for Ukraine" project.
The project, funded by the National Agency of Academic Exchange of Poland (NAWA), is aimed at enabling cooperation between Ukrainian and Arqus universities.
The University of Wrocław, with a long tradition of cooperation with universities across Ukraine, will serve both the Ukrainian side and the members of the Alliance with its experience, becoming a key meeting place.
The different programmed activities within the project (summer schools, workshop meetings and study visits) look for introducing Ukrainian universities to the methodology and field of activities of the European Universities' initiative as well as deepening the knowledge about Ukraine, its history, identity and freedom aspirations among the academic communities of the Arqus members.
Namely, the main goal of this workshop is to foster networking and the initiation of in-depth cooperation in the areas of management, research and administration between the Arqus and Ukrainian university members.
The 2-day workshop will be addressed to management, academic and administrative staff of the Ivan Franko National University of Lviv, the Taras Shevchenko Kyiv National University, the Yuri Fedkovych National University of Chernivtsi and the Arqus associate partner, Kyiv Mohyla Academy National University.
For more information about the "Arqus for Ukraine" project, visit this website.