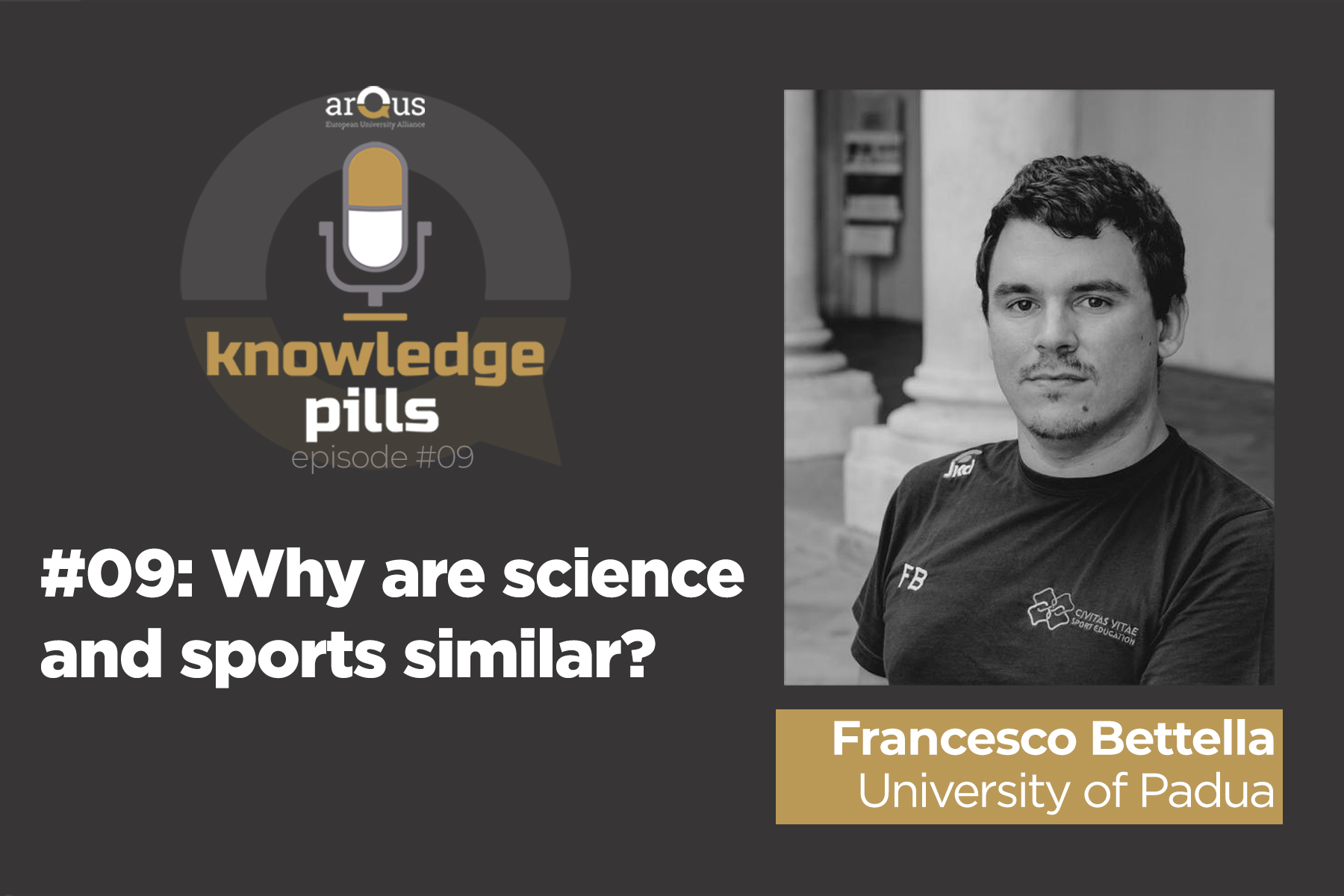 Francesco Bettella, the Italian Paralympic swimmer, our guest in the last Arqus podcast
A new Arqus Knowledge Pill has been released! The ninth episode of the Arqus podcast focuses on the link and similarities between science and science.
Why are science and sports similar?
In this episode, we chat with Francesco Bettella, a researcher at the University of Padua and a Paralympic swimmer who already won several medals. He tells us how he prepares for a swimming race, what feelings he experiences during the tournament and how all of his know-how pours into his research about exoskeletons. Also, he reveals to us his next objectives both in sports and in academia, and describes how both fields are sometimes quite similar.
More about Francesco Bettella:
Francesco Bettella is an Italian Paralympic swimmer. He represented Italy at the Summer Paralympics in 2012, 2016 and 2021. In 2016, he won two medals: the silver medal both in the men's 50-metre backstroke S1 event and in the men's 100-metre backstroke S1 event. He won two bronze medals at the 2020 Summer Paralympics. He won the bronze medal in the men's 50 metres backstroke S2 at the 2018 World Para Swimming European Championships held in Dublin, Ireland.
He served as the president of the organising committee of the 2018 World Series event in Lignano Sabbiadoro, Italy. He also took part in the event as an athlete. "It is a great challenge as this time the event is not only 'just' the national championships, but one of the six World Series events. I had never imagined doing it in Lignano Sabbiadoro or in Italy". He has also served as a member of the federal council of the Italian Para Swimming Federation.
His life was featured in a short film titled 'Francesco' that was produced by the research centre Fabrica, a branch of Benetton Group. In the film, he talks about his early days when he was diagnosed with his condition, his life in swimming and his passion for cars that helped him to become an engineer.
After he graduated with a bachelor's degree in mechanical engineering from the University of Padua in Italy in 2013, he remained at the university to study for a master's degree in the same subject between 2013 and 2016.
The episodes of the "Arqus Knowledge Pills" are published on a regular basis and can be subscribed to on Spotify, anchor and other platforms (see below). Gerhild Leljak (University of Graz) and Pietro Osti (University of Padua) are the moderators that lead listeners through each episode.
Some parts of this news have been prepared with information extracted from Wikipedia and the International Paralympic Committee.