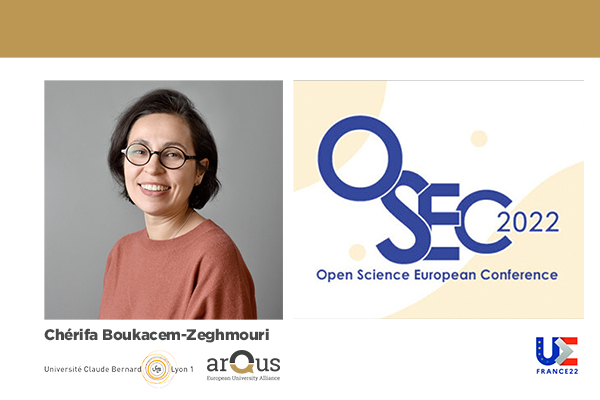 A piece of Arqus at the Paris Open Science European Conference (OSEC) in February 2022
The Paris Open Science European Conference (OSEC), organised in the framework of the French Presidency of the European Union, will take place the 4th and 5th of February 2022. Among the main topics discussed during this event transparency, research products, research assessment & future of academic publishing will be major points of focus.
One of the professors involved in Arqus activities related to open science and alternative research assessment, Chérifa Boukacem-Zeghmouri from the Université Claude Bernard Lyon 1 and also member of the French Comité pour la Science Ouverte (Coso) and co-pilot of the DORA Evaluation Working Group, will be part of the event.
Alongside internationally recognised researchers and experts, she will give a talk on Early Career Researchers and their role(s) in changing research assessment. This specific session, called "How Eearly Career Researchers (ECRs) are the harbinger of change?" will take place on 4th February at 16:00 (CET).
You will have the possibility to follow this conference in French, English or Spanish.
You can find the full program here.
Arqus and Open science:
The Arqus universities commit themselves to fostering Open Science and to coordinating efforts in order to enhance Openness within and beyond the Alliance in a strategic way. While an Arqus Openness position paper will be released at the Arqus Annual Conference in Padua in April 2022, multiple working groups dealing with the transformation of the research and innovation ecosystem in Europe show Arqus willingness to be at the heart of these reflections redefining the European research area itself.