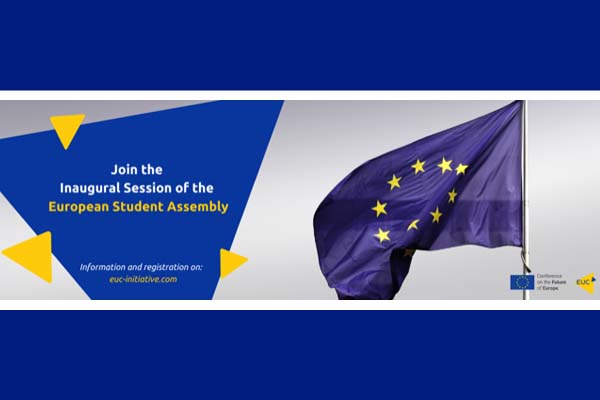 The initiative European Universities Community invites Arqus students to participate in the European Student Assembly in Strasbourg 2022
The European Universities Community (EUC) is a grassroots initiative gathering student representatives from European University Alliances. Its objective is to give students a voice in the Conference on the Future of Europe launched by the European Commission, the European Parliament and the European Council on May 9th, 2021.
"Our Union will be stronger if it is more like our next generation: reflective, determined and caring. Grounded in values and bold in action." – Ursula von der Leyen, State of the Union 2021.
In this spirit, the inaugural session of the European Student Assembly will bring together 200 to 300 student representatives from all 41 European University Alliances (EUA), for a conference to be held in Strasbourg on March 3-4, 2022.
Together, students and PhD students will discuss some of the most complex challenges that the EU faces today to eventually make recommendations to European policymakers. This inaugural session will be the first of a series of gatherings that will give students a public voice in the EU.
Applications from interested Arqus students must be submitted through this form before November 14th.
Are you interested in other ways of action? Besides the participation in the inaugural session of the European Student Assembly, EUC proposes a wide array of activities declined in four main actions:
-Action 1: Contribute to the multilingual digital platform.
–Action 2: Inaugural session of the European Student Assembly (current action being announced).
–Action 3: Manifesto on the future of European Universities.
-Action 4: Promoting multilingualism and multiculturalism.
To learn more, have a look at the EUC website, handbook and leaflet.
News prepared by the student steering committee of the EUC: Elena Schulz-Ruhtenberg, Sciences Po, CIVICA; Reem Al-Almeri, Sciences Po, CIVICA; Léonard Colomba-Petteng, PhD student, Sciences Po CIVICA; Julia Burchett, Université Libre de Bruxelles, CIVIS; Emil Răducanu, CY Université de Cergy, EUTOPIA; Islam Shalik, Université Grenoble-Alpes, UNITE!