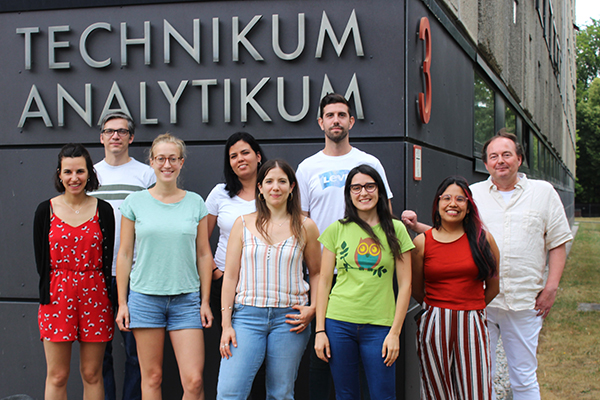 The first step towards joint research activities on plastic contamination: A visit from Granada to Leipzig
In the framework of Arqus Action Line 6 "Research Support and Early Stage Researcher Development", Jörg Matysik's Molecular Spectroscopy Group at the Institute of Analytical Chemistry of Leipzig University, hosted a research team from the Institute of Water research at the University of Granada. The aim of this short stay from 19 to 21 July 2022 was to encourage the creation of multidisciplinary networking between members of both universities, currently working in similar research lines.
During the visit, several seminars and activities took place. First, both groups presented the current state and findings of their research about plastic degradation by microbial enzymes, their characterization, toxicity tests performed in zebra fish embryos, the pollutant's degradation by fungi, and the possible application in different kind of bioreactors (aerobic granular sludge and enzymatic elimination of polyethylene terephthalate, PET).
The visiting group had the opportunity to get to know more about a specific technique used for investigation of enzyme activity: Nuclear Magnetic Resonance (NMR). Doctoral researchers from Leipzig demonstrated the analysis. Furthermore, the group from the University of Granada was introduced to the new advances from Dr. Christian Sonnendecker on bioreactors for PET degradation.
Thanks to this visit, participants had the opportunity to exchange knowledge and experiences about plastic contamination and the effort taken in their respective universities. More importantly, it's the starting point for future joint research activities.
Original news by Aurora Rosa-Masegosa, Tatiana Robledo-Mahón and Gabriela Ángeles-De Paz.