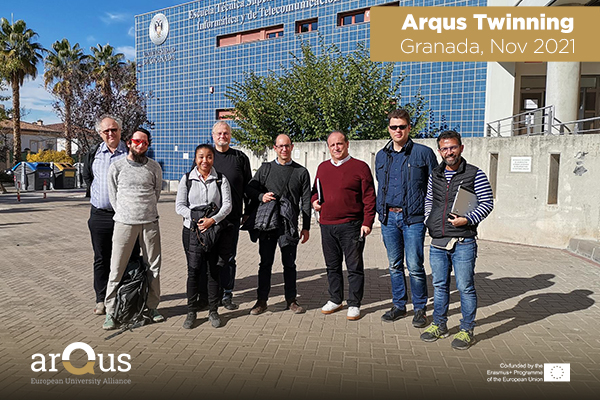 Leipzig and Granada seek to boost cybersecurity research and teaching through the Twinning initiative
Arqus Twinning aims to strengthen subject-related collaboration of staff and students and create possibilities to carry out joint learning and teaching activities through piloting short-term mobility schemes. With this initiative, the Alliance aims to contribute to the societal challenges' solutions and to advance towards deeper European integration.
From 14th to 18th November a group of teachers of the Departments of Neuromorphic Information Processing and Bioinformatics at Leipzig University visited the University of Granada for a Twinning exchange. They met professors from the Departments of Signal Theory, Telematics and Communications; Computer Science and Artificial Intelligence; Genetics and Languages and Informatics Systems at the School of Computer and Telecommunications Engineering.
During these 3 days, an intense interdisciplinary collaboration was developed in 4 main areas:
Defining a common "language" to understand each other's activities and interests.
Presenting the advances in their respective research.
Discussing the organization of potential curricular structures of cooperative teaching.
Assessing the reciprocal abilities of each group in order to establish a common degree course or an international module in the field of cybersecurity combined with neurological respective biologically driven methods.
The German participants had also the opportunity to visit the rectorate building of the University of Granada. Although the three days visit was too short to define all the activities in detail, an interesting collaboration line was open for organizing a summer school to respond to the rising demand for cybersecurity experts. Moreover, the general study path and possibilities of PhD studies in computational biology will be discussed further in online meetings.
The results of this collaboration initiative for the teachers of Leipzig and Granada have been tremendously successful for their short-term research and teaching aims. Additionally, at the Alliance level, the Twinning activities such as the ones described above, contribute highly to the achievement of the objectives of increasing research capacity of the Arqus members, improving the quality of learning and teaching through interdisciplinary and research-based approach and, especially, defining new collaborative academic curricula that can better respond to the economic and societal challenges of this moment.
In 2021, 21 Twinning applications were approved and supported by Arqus, even though originally it was planned to fund 14 initiatives (2 per university). Due to the quality of the applications and motivation of the academic staff, almost all universities decided to find more resources and fund more. Another 12 applications were funded by other programmes or international budgets of the universities. The grant notification for the 2022 applications will be provided to applicants by 28th February. The eligible period for the twinning visits of this year starts in March and ends in September.
For more information, click here.