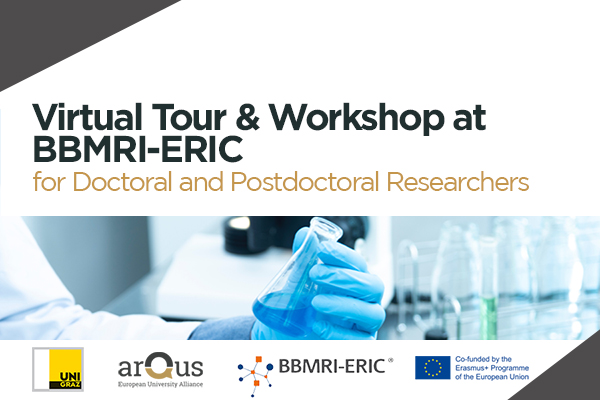 The BBMRI-ERIC workshop sparks interest between Arqus young researchers for a career outside academia
Last Tuesday, 1st Feb, 7 PhD candidates and postdoctoral researchers from Arqus universities participated in the virtual tour and workshop on career skills organised by the University of Graz at the BBMRI-ERIC (Biobanking and Biomolecular Resources Research Infrastructure – European Research Infrastructure Consortium).
This initiative was organised within the Arqus actions for PhD employment support for young scientists in the biomedical field interested in the social and ethical dimension of their research, the opportunities of career development outside academia as well as in the acquisition of the soft and business skills demanded in the private science sector.
Virtual tour and online workshop
The event started with a virtual tour at the BBMRI-ERIC facilities. The Director-General Prof. Jens K. Habermann launched the tour with a brief overview of the research infrastructure and then spoke about his own career path, from an M.D. in northern Germany to a PhD in Sweden and postdoc in the United States. He stressed to the participants the importance of seizing opportunities as they come: "If you never open the door, you will never know what's behind it", and finding mentors.
Mónica Cano Abadía, ELSI Services Officer, moderated the rest of the tour, speaking about her own leap from a philosophy postdoc to working in ethical, legal and societal issues at BBMRI-ERIC. She was followed by colleagues in ELSI, Quality Management, IT, Biobanking Development and Outreach, Education & Communications, who all shared their career paths and how these prepared them for careers in research infrastructure. "What I like about working at BBMRI-ERIC is that I can contribute to health research in a collaborative and international way", said Eva García Álvarez, IT Scientist and Project Manager.
The second part of the session was a workshop in which BBMRI-ERIC staff introduced common issues dealt with in our everyday work, such as pre-analytical processes and ethical questions. It was followed by a lively question and answer period as well as an open invitation for an on-site coffee as soon as the pandemic allows.
Prior to the workshop, only 63% of participants had known what "biobanking" and only two-thirds had heard of BBMRI-ERIC. By the end, 85% said they were "definitely" interested in a career in a research infrastructure such as BBMRI-ERIC.
Previous news here.
This initiative has been organised within Arqus Action Line 6, Research Support and Early-Stage Researcher Development, chaired by University of Graz aimed, among other objectives, at empowering young researchers in opening up professional opportunities and increasing their employability.