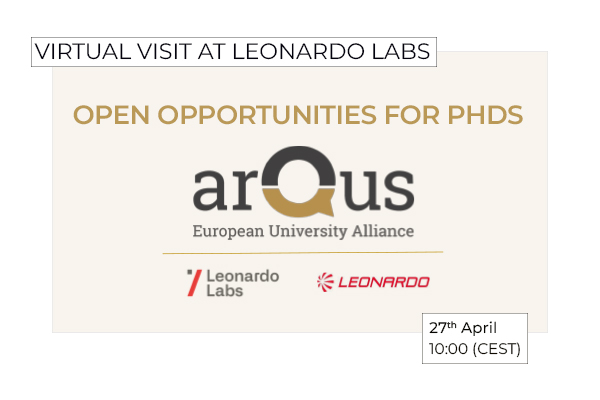 Leonardo Labs will present their open job positions to Arqus PhD students in STEM disciplines
18 April 2022
The Career Service of the University of Padua invites Arqus PhD students in STEM disciplines to the virtual company visit to Leonardo Labs on 27th April at 10:00 am (CEST).
Leonardo Lab company plays a prominent role in major international strategic programmes and is a trusted technological partner of governments, defence agencies, institutions and enterprises. Leonardo develops multi-domain capabilities in the Aerospace, Defence and Security sector. Innovation, continuous research, digital manufacturing and sustainability are the cornerstones of Leonardo's business worldwide through a network of research and development laboratories interconnected with universities, polytechnics, research centres and partner companies, to create a constantly evolving innovation ecosystem. These hubs nurture a continuous flow of talent and ensure flexibility and the ongoing renewal of professional skills and competencies. It is a model with international young research fellows and PhD students at its heart, enabling them to work alongside the company's experts and technicians.
During the online presentation, Alessandro Massa, Head of Research Laboratories, and Carlo Cavazzoni, Head of Computational R&D and Director of the Hpc Lab in Leonardo, will explain what it means to work in the Leonardo Lab and R&D Facilities and how the recruitment process works. The presentation will be entirely held in English. The full programme of the virtual visit is available here. Additionally, an overview of the current open positions at this company can be found here.
Register here for the virtual visit.
This activity is organised within AL6 Research Support and Early Stage Researcher Development, chaired by the University of Graz.