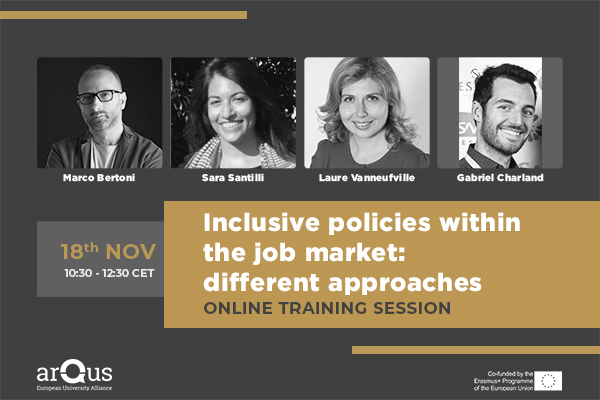 The Universities of Padua and Lyon organize an online training session on inclusive policies within the job market
The Universities of Padua and Lyon organize the online training session "Inclusive policies within the job market: different approaches" on Thursday 18th November, from 10:00 am to 12:30 (CET).
In this activity, four French and Italian speakers will present the inclusion environments and policies of different organizational structures (associations and companies). The results of this event will be integrated into the future guidelines that will be delivered at the end of the action.
The webinar is open to professional career Departments, Human resources, Inclusion and Disability Offices, students, academic and administrative staff, external stakeholders, and all persons interested in this issue.
Online registration is open until Wednesday, 17th November at 13:00 CET here.
A link to access the meeting will be sent to participants on Wednesday afternoon.
Programme:
-10:15 am: Welcome and introduction to the event.
–10:15 – 10:45 am: Presentation by Laure Vanneufville. HR Development Director and International HR Director at Casino Group.
Laure Vanneufville is graduated in Human Resources (HR) by the Institut d'Estudis Polítics (IEP) and the University of Dauphine (Paris-France). After a first experience at the Ministry of Social Affairs, she joined the Casino Group in 2006 where she successively held several positions in HR Development and as Operational HR Director. She is currently HR Development Director and International HR Director. She is also the professional equality referent for the Casino Group.
–10:45 – 11:15 am: Presentation by Marco Bertoni. Design Director at Mondora and professor in User Experience Design.
Marco Bertoni is an expert in Business Design, User Research, Usability, Information Architecture, and Digital Accessibility. Marco has developed UX consulting, led creative teams, managed events, and also worked for two decades in the fields of Digital Accessibility and Assistive Technologies tutoring. Inclusive Design values are a central element of his work and life philosophy. He also teaches User Experience Design in the Master's Degrees in Graphic Design and Art Direction and the Higher Education Course in Marketing and Business Communication at Accademia di Comunicazione Foundation, a Design school based in Milan.
–11:15 – 11:20 am: Break.
–11:20 – 11:50 am: Presentation by Sara Santilli. Professor at the University of Padua.
Sara Santilli is a researcher at the Department of Philosophy, Sociology, Pedagogy, and Applied Psychology at Padua University. She is a psychologist, a CBT therapist, and a post-graduated in Career Counseling at this university. Her research interest concerns the fields of career counselling, career construction, and workplace inclusion for people with and without a disability.
11:50 – 12:20 pm: Presentation by Gabriel Charland. Activities and Services Manager at Messidor Association.
Gabriel Charland has been working at Messidor for more than 4 years and, currently, he is responsible for the entry of new users and the Job Coaching and Messidor Conseil systems. He has a background in psychology. He began his professional career in the association in 2012 as a Social Rehabilitation Counsellor for individuals sentenced to probation or with suspended sentences. It was during this first experience that he was confronted with the issue of mental health. He continued with a Master's degree in Ergonomics which enabled him to develop skills in improving working conditions. In order to share his interests and experiences, in 2017 he naturally turned to the professional integration of people with mental disabilities. Since December 2020, he has held the position of Activities and Services Manager at Messidor Association within the Rhône department.
–12:20 – 12:30 pm: Closing of the webinar.
​​​​​​This activity is organized within Action Line 2, Widening Access, Inclusion and Diversity. Namely, it is referred to the Task Force 2.12, Job market transition for inclusive universities, aimed to highlight examples of inclusive environments and policies.