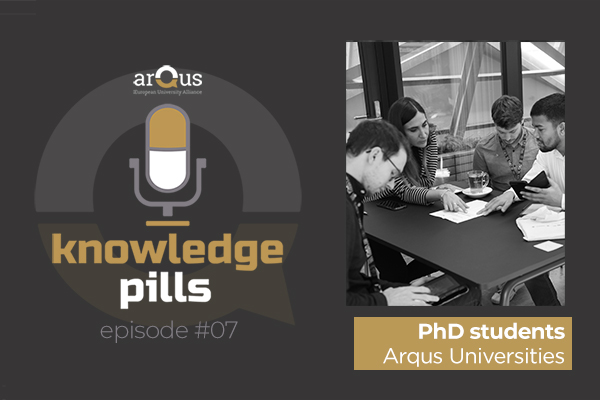 The Arqus podcasts come back with an episode devoted to the success of scientists outside academia
From 13th to 15th October, the University of Graz held the first Arqus PhD Week for Careers Outside Academia on the premises of the Unicorn (Center for Knowledge and Innovation Transfer, ZWI).
Around 60 participants (doctoral researchers, PhD graduates and career development experts) from the seven universities of the Arqus Alliance met with local entrepreneurs to work together.
We took this great opportunity of having them all together to devote the 7th Arqus Knowledge Pill to the success of scientists outside academia, by chatting with some of the participants of this activity.
How can scientists succeed outside academia?
A PhD degree offers a broader variety of career opportunities than just the classic academic path. But how can young researchers succeed in the private business sector? How can they find their own start-up based on their scientific findings? Students from all Arqus universities recently came to Graz to dive deeper into this topic. Listen to the participants of the "Arqus PhD Week for Careers outside Academia" and find out more.
The episodes of the "Arqus Knowledge Pills" are published on a regular basis and can be subscribed to on Spotify, anchor and other platforms (see below). Gerhild Leljak (University of Graz) and Pietro Osti (University of Padua) are the moderators that lead listeners through each episode.