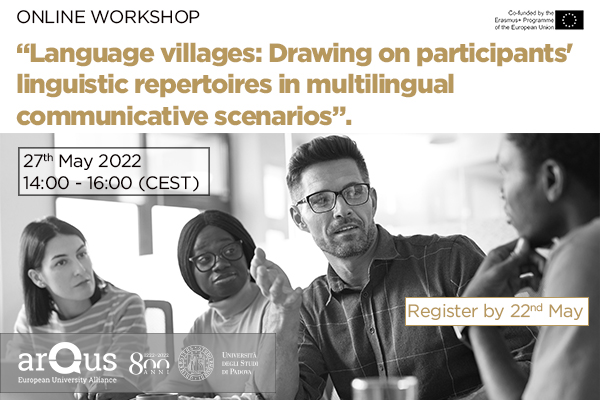 Padua offers a workshop on linguistic repertoires in multilingual communicative scenarios
Next 27th May, the University of Padua will host the online workshop "Language villages – drawing on participants' linguistic repertoires in multilingual communicative scenarios". The webinar will show participants how plurilingualism can be promoted within the scenario of a "Language Village".
The "Language Village" embeds various multilingual stations where the participants engage with challenging and authentic communicative situations in an interactive and cooperative way; drawing on the languages and dialects they know, as well as on body language and intercultural awareness, and their knowledge of the world. The aim of each station is to create the space and condition for the activation and the use of comprehensive plurilingual competences, intercultural skills and mediation strategies. The active participation in the stations of the "Language Village" will raise the participants' awareness on how their rich linguistic repertoires can get activated in their professional life.
There are no prerequisites for this course, but participants are asked to join in with their microphone and computer camera on.
Target group:
All interested academic and administrative staff members of the Arqus Alliance partner universities.
Workshop leaders:
Marta Guarda and Verena Platzgummer, Institute for Applied Linguistics, Eurac Research, Bolzano/Bozen (Italy).
Date and time: 27th May 2022, 14.00 – 16.00 (CEST).
Please register here by 22nd May 2022.
Workshop format:
Online (Zoom). Participants will receive an invitation to a Zoom meeting in a timely manner.
Fee:
The workshop is free of charge for staff members of the Arqus Alliance partner universities.
For any enquiries, please contact Barbara Gödeke at barbara.godeke@unipd.it
Please note: In order to ensure the quality of the session and for the benefit of the participants, the number of participants for this workshop is limited to a maximum of 20. The workshop places will be distributed fairly among the partner universities, on a first-come, first-served basis.
The Arqus workshop series on language and cross-cultural competence is offered in the framework of Action Line 4 Multilingual and Multicultural University (sub-line 4.5), led by Leipzig University. These workshops target academic and administrative staff at partner universities and focus on specific topics such as working and teaching through the medium of English, intercultural awareness in the classroom and outside, and inclusive language.