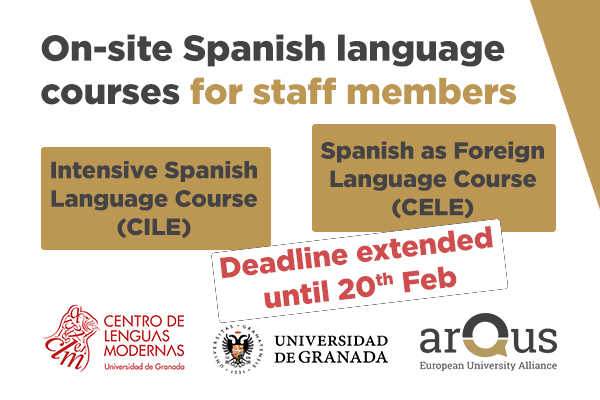 There are still places left for the Spanish language courses for Arqus staff members in Granada!
The UGR Modern Languages Centre (Centro de Lenguas Modernas), one of the leading institutions in Spain for language learning, is offering two places per partner university (12 in total) within its regular offer during the summer term 2022. The courses take place face-to-face in Granada, and are available for all levels. There are still some places left for staff members from Bergen, Graz, Leipzig, Padua and Vilnius.
Staff members can choose between two types of offers:
The Spanish as Foreign Language Course (CELE) is a semester-long course that runs from 1 March to 16 May 2022 with 6 hours per week, 60 hours in total.
The Intensive Spanish Language Course (CILE) is a compact two-week course that is offered twice a month. Interested staff members are free to enrol for any time slot between March and July 2022. The course encompasses 40 hours.
Participants must bear their own costs for travel, accommodation and subsistence associated with taking up this offer.
These short videos (video 1 and video 2) may give you an idea of what this activity is about.
Target group:
Administrative and academic staff of the Arqus Alliance partner universities.
Fee:
The Spanish language course is free of charge for staff members of the Arqus Alliance partner universities.
Registration:
Please register here for either course by 20th February by indicating course type, timeframe (where applicable), and the language level you wish to choose. Please only register if your ambition is serious, as the number of places is very restricted.
Contact:
For any enquiries, please contact Francisco Javier Montoro Ríos.
Please note: The number of participants for this offer is limited to a maximum of 12. There are 2 places per partner university and these will be allocated on a first-come, first-served basis. If there are less than 2 registrations from one university, the remaining places will be allocated in list order regardless of affiliation to a partner university. A reserve list will be drawn up.
The Arqus workshop series on language and cross-cultural competence is offered in the framework of Action Line 4 Multilingual and Multicultural University (sub-line 4.5), led by Leipzig University. These workshops target academic and administrative staff at partner universities and focus on specific topics such as working and teaching through the medium of English, intercultural awareness in the classroom and outside, and inclusive language.