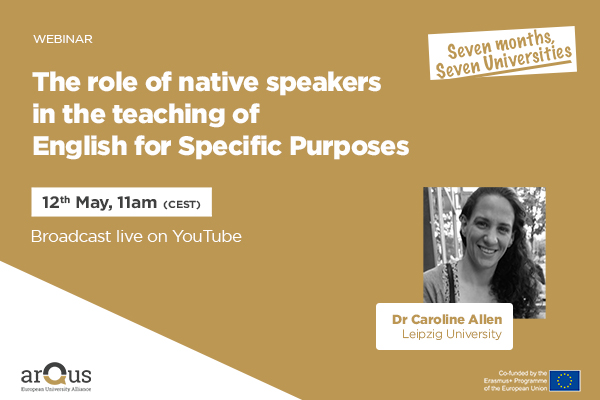 Webinar on the role of the native speaker in the teaching of English for Specific Purposes
Next 12th May at 11:00 CEST, Dr Caroline Allen of Leipzig University will give a lecture on the role of native speakers in the teaching of English for Specific Purposes in the framework of the series "Seven months, seven universities". The webinar will be in English and broadcast live on the Arqus YouTube channel.
The concept of the native speaker can loom large in English teaching at all levels. In English for Specific Purposes (ESP), in particular, it is a multifaceted area that raises many questions fundamental to the preparation of courses and materials. These questions include whether participants feel it is important to have a native speaker teacher, whether they support the inclusion of so-called native speaker norms as examples to emulate, and how they perceive the differences between themselves and native speakers in scientific communication. Dr Caroline Allen will include a theoretical overview of these areas with the incorporation of qualitative data from interviews with medical and biology students in her talk leading to a discussion of how this can inform materials creation for ESP courses.
Dr. Caroline Allen is teaching English for Specific Purposes (ESP) at the Language Centre at Leipzig University. Her main focus is English for natural sciences, and, in particular, medicine. She wrote her PhD on the attitudes of medical students towards ESP teaching and how this knowledge of learner attitudes can be applied to create better course materials. Since then, she has moved into teaching English for chemistry, biochemistry and biology.
This webinar is part of the series of guest lectures "Seven months, seven universities" to be offered in the framework of the Action Line 4 of Arqus, "Multilingual and Multicultural University". These lectures focus on specific topics related to language and culture, and target mainly graduate and post-graduate students as well as early-stage researchers.