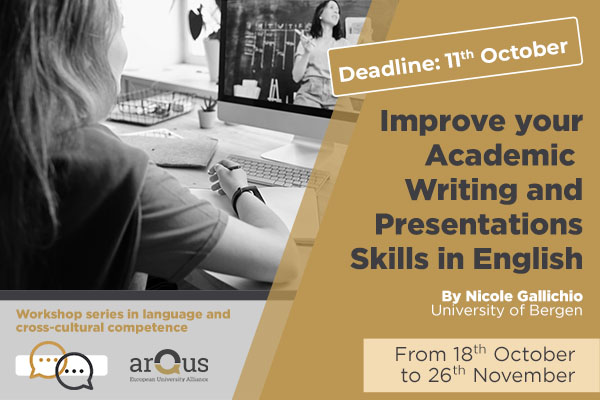 The Workshop Series on Language and Cross-Cultural Competence continues with webinars on academic writing
As part of the recently launched joint workshop series for staff at partner universities in language and cross-cultural competence, the University of Bergen organises several courses for postdoctoral fellows (and PhD candidates) that aim at improving their English skills in their academic field. 12 places in total are reserved for the other Arqus partner universities.
The objectives of the course are to:
-Increase participants' confidence in presenting/writing/teaching in English.
-Help participants translate their research findings into academic texts and presentations.
-Improve participants' oral English in an academic context, particularly with a view towards presenting at international meetings, conferences, lectures and seminars.
-Strengthen participants' ability to express themselves clearly and fluently, and improve their ability to communicate their desired message.
-Enable participants to use English in an academic and social context throughout the course.
-Provide participants with individual guidance on their academic writing and presenting, as well as constructive peer feedback.
-Give participants resources on the "nitty gritty" of academic writing and presenting in English, as well as a broad overview of how to communicate simply but elegantly in academic settings.
Procedure:
Before the course, participants will be asked to submit a sample of an academic text they have written in English (between 200–400 words). Exercises will be developed from these texts to teach the key elements of academic writing and presenting in English (i.e., relevant grammar, punctuation and style, clear and concise communication, and how to target specific audiences).
The first two classes will consist of group instruction, individual guidance, and small-group exercises, as students prepare a 5-minute presentation on a topic relevant to their academic work. Each student will give their presentation in the third class: feedback will be provided both by the instructor and the other course participants.
Note: Each class will be immediately followed by an optional 50-minute supported writing session, where the instructor will provide one-on-one guidance to participants on specific issues they may encounter while working on their own texts.
Target group:
Postdoctoral fellows and PhD candidates at all Arqus universities.
Workshop leader:
Nicole Gallicchio, MA. who has taught academic writing at the University of Chicago, Michigan State University and the Inland Norway University (among others).
Date and time (CEST/CET):
You can choose one of the following courses:
–Course 1: Faculties: Medicine, Mathematics and Natural Sciences.
18, 20, 22 October, 09:00-12:00.
–Course 2: Faculties: Humanities and Social sciences.
25, 27, 29 October, 09:00-12:00.
–Course 3: Faculties: Law, Psychology, and Fine Art, Music & Design.
1, 3, 5 November, 09:00-12:00.
–Course 4: Faculties: Medicine, Mathematics and Natural Sciences.
8, 10, 12 November, 09:00-12:00.
Course 5: Faculties: Humanities, and Social Sciences.
15, 17, 19 November, 09:00-12:00.
–Course 6: Faculties: Law, Psychology, and Fine Art, Music & Design.
22, 24, 26 November, 09:00-12:00.
We will put together participants from the faculties according to the list above as far as possible. If you cannot attend the course designated for your faculty, you can choose to participate in one of the other courses.
Workshop format:
Online (Zoom).
Registration:
Please register here by 11th October 2021, 10 am (CEST).
Participants will receive an invitation to a Zoom meeting in a timely manner.
Fee:
The workshop is free of charge for staff members of the Arqus Alliance partner universities.
Contact:
For any enquiries, please contact nedelina.naydenova@uib.no.
Please note: The number of participants for each one of the six courses is limited to ten. The University of Bergen has reserved in total twelve places for interested parties from the other six partner universities. Thus two places per course are reserved for all six partner universities (and not for each). Course places will be allocated on a first-come, first-served basis, while ensuring equal representation among the six partner universities.
The new series of workshops is offered in the framework of the Action Line 4 of Arqus, Multilingual and multicultural university (sub-line 4.5), led by Leipzig University. These workshops target academic and administrative staff at partner universities and focus on specific topics ranging from working and teaching through the medium of English, intercultural awareness in the classroom and outside, to inclusive language.