​
After the launch webinar that took place on Monday 27th September, Arqus opens the call for applications for the Arqus ISLYE (international mobility for young entrepreneurs) Programme for incubated student entrepreneurs.
The programme offers international mobility opportunities between Arqus incubators to student entrepreneurs, in order to support them in the development of their internationalisation strategy.
All services and resources offered to incoming student entrepreneurs from partner incubators are offered free of cost.
Programme objective
Experiencing an international mobility is highly beneficial for entrepreneurs as they get:
-An experience an intercultural approach to business
-Support for their entrepreneurial project through international mentoring and coaching
-To meet startups and companies in a "peer to peer" logic
-To develop their business network with help local partners
Eligibility
This programme is open to student-entrepreneurs incubated at the 7 Arqus partners' incubators, whose
projects have a strategic interest in acquiring an international orientation.
2021-22 Call calendar
​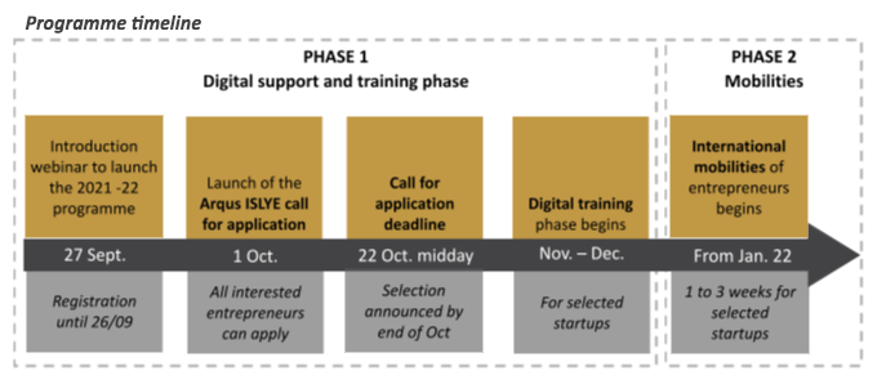 Application submission
All applications are to be submitted online, by 22nd October, here.
For more information (funding opportunities, local referents contacts, eligibility…), please download this pdf. ​