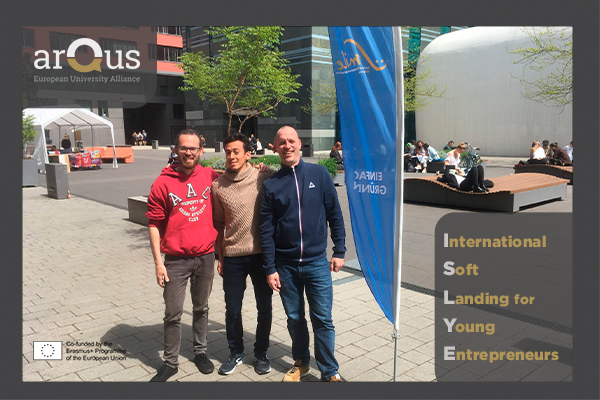 An entrepreneur from Padua visits the start-up initiative SMILE at Leipzig within ISLYE Programme
In the framework of the ISLYE (International Soft Landing for Young Entrepreneurs) Programme of Arqus, Héctor García, founder of weavez in Padua, visited SMILE, the start-up initiative of Leipzig University, from 2nd to 8th May.
ISLYE aims to encourage student entrepreneurs to engage in international exchange, for example through mobility offers like the visit of weavez in Leipzig. The entrepreneurs are supported in developing their internationalisation strategy in the form of partnerships with incubators such as SMILE. With his project weavez, Héctor García aims at enabling students to learn about and exchange information on local events and to engage in community building at their university locations.
The programme for the weavez founder in Leipzig included various meetings with local start-ups from the SMILE ecosystem: WeCreate and Disaster Relief Systems. Simultaneously to his visit, the Arqus AL5 Collaborative Summer School was taking place, so he was also able to participate too. Representatives from many Arqus partner universities (Leipzig, Granada, Bergen, Lyon, Vilnius and Padua) took part in this Summer School to exchange knowledge and experiences and to present methods and tools that they successfully apply at their respective universities. Furthermore, Héctor presented his project to Master's students in the seminar "Start-up Management" of the Faculty of Economics and exchanged ideas with the local Erasmus initiative.
"The experience in the mobility was exceptional since I had the opportunity to learn from several universities, the Arqus partners, in the Summer School. Furthermore, it gave me the opportunity to network with entrepreneurs. This allowed me to learn more about the entrepreneurship path, practicalities and the innovation spirit. The visit in Leipzig was inspirational for me, since it sparked my creativity, and boosted my confidence and business skills" says Héctor about his time in Leipzig.
The ISLYE Programme is developed in the framework of the Action Line 5 Entrepreneurial University and Regional Engagement, chaired by University of Lyon.