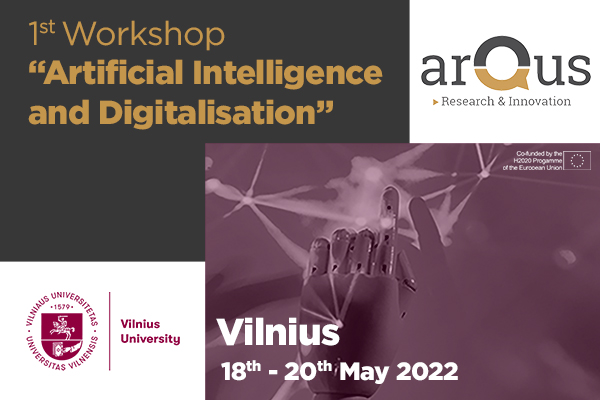 The Arqus RI Workshop on Artificial Intelligence and Digitalisation kicks off today at Vilnius University
From 18th to 20th May, Vilnius University hosts the interdisciplinary research workshop "FinTech: Finance, Technology & Regulation". The workshop, organized in the Arqus Research & Innovation (Arqus RI) project framework, brings together participants from several European higher education institutions and keynote speakers from the Universities of Singapore and Cambridge.
The thematic scope of the workshop includes the European FinTech policy and its risks, regulatory strategies and consumer protection. Moreover, the workshop participants will discuss computational finance and artificial intelligence in the data-intensive domains of finance, government, business, as well as big data analytics. During the workshop, the participants will also debate security and privacy solutions, technologies for supervision and compliance, and digital transformation in banking, investment, insurance, environment, health and other fields.
Among the keynote speakers of the workshop will be Prof. Simon Chesterman, Dean of the Faculty of Law at the National University of Singapore Faculty of Law and Senior Director of Artificial Intelligence (AI) Governance at AI Singapore. Prof. Chesterman will give the lecture "We, the Robots? Whether, When, and How to Regulate Artificial Intelligence".
Another keynote speaker of the workshop is Andrei Kirilenko, Professor of finance and Founding Director of the Cambridge Centre for Finance, Technology & Regulation (CCFTR) at the University of Cambridge. Prof. Andrei Kirilenko will speak about the optimal selection of crypto assets.
The workshop discussions will attract Lithuanian experts. Among them are Inga Karulaitytė-Kvainauskienė, FintechHub LT Board member; Evelina Kvedaravičiūtė, Project Manager for Financial Market Development at Bank of Lithuania; Andrius Ramoška, member of FINTECH Lithuania/Infobalt, Co-founder and CEO at Soverio; Andrius Petkevičius, CEO at BCCS (Blockchain CyberSecurity Compliance Solutions) cluster; and Assoc. Prof. Saulius Masteika, Vice-Dean for infrastructure at Kaunas Faculty and Chair of FinTech study program at Vilnius University.
The Arqus RI project aims to enhance the research and innovation dimension of the Arqus Alliance. It also addresses current global societal challenges through intensified joint research, characterized by the pursuit of excellence, openness, transparency and effective engagement with society.
Watch the lectures of the workshop on the Arqus YouTube channel.