​
On 3rd February at 17.30, a few days leading up to the celebration of the International Day of Women and Girls in Science, the Arqus European University Alliance will hold an online event on women and academia. The online discussion includes a special focus on the access and presence of women in "hard sciences" (women in STEM disciplines – Science, Technology, Engineering and Mathematics).
The International Day of Women and Girls in Science (11th February) is a day to confront, discuss, promote awareness for change, and to offer tools needed to stimulate interest and provide information on the relevance of research, in particular scientific research, by sharing the successes and achievements held by women. For this reason, the fourth Arqus debate features scholars talking about their experiences by discussing obstacles and opportunities, both in the past and today, which universities and society pose to women pursuing academic careers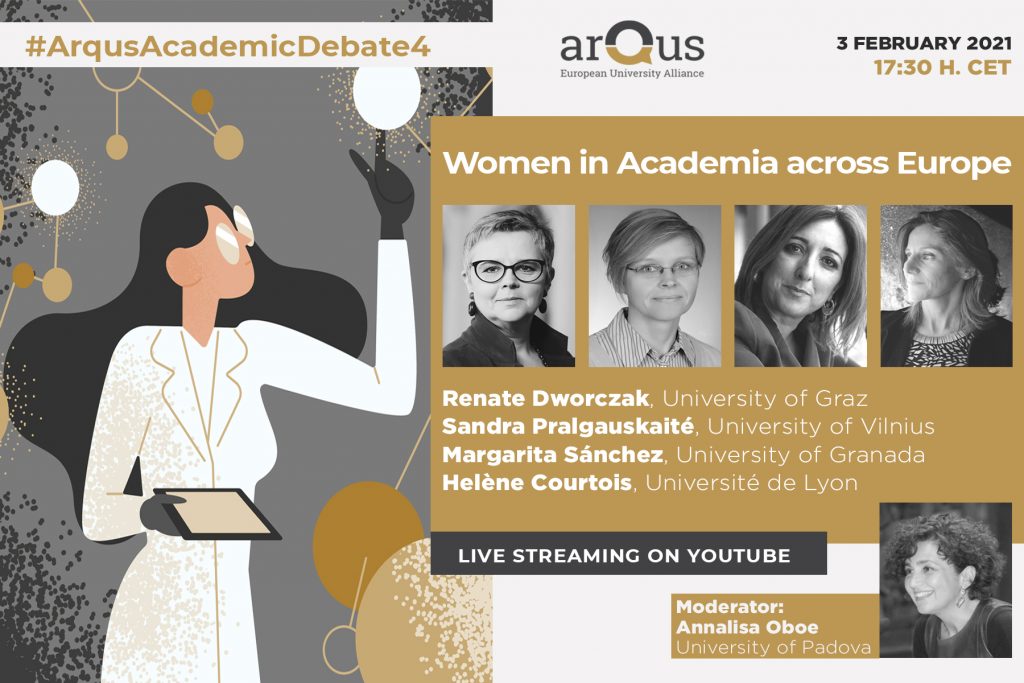 The fourth Arqus Academic Debate includes scholars from France, Lithuania, Spain, and Germany as they discuss these pressing issues, which will be moderated by Annalisa Oboe, Vice-Rector for Cultural, Social and Gender Relations at the University of Padua. Guests include Helène Courtois from the University of Lyon, Sandra Pralgauskaitė from Vilnius University, Margarita Sánchez Romero from the University of Granada, and Renate Dworczak from the University of Graz.
There are still many problems regarding the gender gap in university working environments, with some differences in Europe. Furthermore, the gender gap seems to increase in direct proportion to the academic hierarchical scale. The metaphor most used is the 'glass ceiling'. The glass ceiling includes invisible limitations, not analysed by data, facing women as they climb towards careers in top positions, including positions in academia. Therefore, it is quite essential to discuss the gender gap across European universities, with the relevant data in hand.
The event will be broadcast live on the Arqus YouTube channel (3 Feb. 2021; 17.30h CET)
Previous events from the Arqus Academic Debate series have explored the topics of Post-Pandemic Citizens (University of Bergen), The US presidential elections: a battle for global? supremacy (University of Graz), and Energy as a pillar, driver and goal of today's world (University of Granada). The in-depth dialogues that will follow benefit from the different research experiences and perspectives of each Arqus university as we tackle global and local challenges together while stimulating new perspectives.
All Arqus Academic Debates are recorded and available for online viewing on the Arqus Alliance Youtube playlist. ​