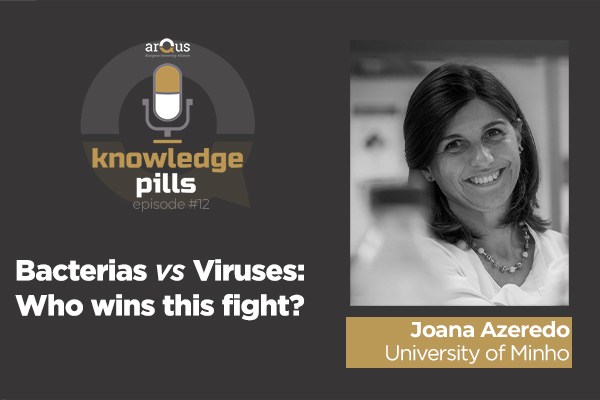 How viruses can kill bacterias, the topic of the 12th episode of the Arqus Knowledge Pills
Arqus devotes its 12th podcast to exploring a specific type of viruses that are used to treat bacterial infections, in an interview with Joana Azeredo, Associate Professor at the Department of Biological Engineering of the University of Minho (Portugal).
Bacteria vs Viruses: Who wins this fight?
This episode is devoted to the design and development of drug delivery nanosystems, namely nanomedicines, for cancer therapy. A promising approach in this field is to engineer nanomedicines to stimulate a specific immune response against cancers.
Most bacterial diseases can be treated with antibiotics, although antibiotic-resistant strains are starting to emerge. In this episode of the Arqus Knowledge Pills series of podcasts, Joana will explain how and why she researches a special kind of virus that can kill potentially dangerous bacteria.
These viruses are of great therapeutic interest and can be used to control infectious diseases. Joana Azeredo's team recently also stood out by creating a "virus bank" to treat diseases caused by antibiotic-resistant bacteria, one of the biggest health problems worldwide.
The episodes of the "Arqus Knowledge Pills" are published on a regular basis and can be subscribed to on Spotify, anchor and other platforms (see below). Gerhild Leljak (University of Graz) and Pietro Osti (University of Padua) are the moderators that lead listeners through each episode.