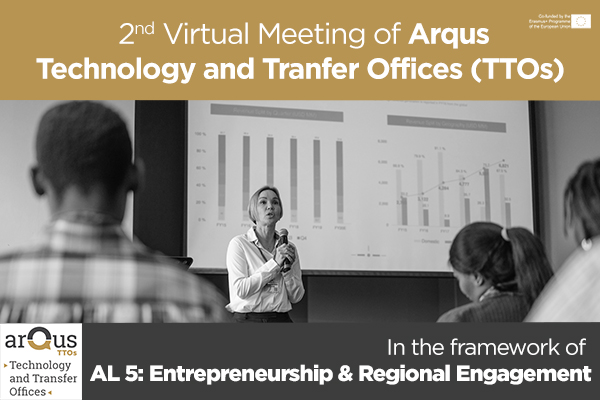 Arqus TTOs draw important lessons about their organisational models and resources planning during their second virtual exchange
As part of Action Line 5, Entrepreneurial university & Regional engagement, a series of virtual meetings bringing together the different TTOs of the Arqus Alliance are held monthly. The main goal of these collaborative sessions is to strengthen ties between the TTOs of the Alliance and to boost benchmarking between them, in order to learn the best practices implemented in each context.
The second virtual Technology and Transfer Offices (TTOs) exchange took place on 26th November on the topic "Organisational chart and resources to manage each TTO tasks".
Each TTO referent was asked to present in a few slides how their TTO is organized, detailing human resources, functions and connections with the university. Also, the main numbers and results were shared with the other partners.
Essentially, the different functions were benchmarked to know how each TTO translates public research into real technological applications, company creation and employment. Common tasks were identified in each presentation: management of intellectual property, promotion of spin-offs and startups, scanning new potential technologies and valorisation, the search of R&D funding and investors, as well as management of transfer contracts and patent applications.
However, differences were also identified, such as the links with each university that varies from the most embedded TTOs (such as Granada or Padova) that are fully integrated into the complex organisational chart of the university, to more independent structures like Pulsalys in Lyon, where the university is one of its shareholders.
The next virtual meeting of Arqus TTOs will take place in January with a focus on sharing in-depth success stories of each TTOs, and detailing its origins, key milestones and current state.