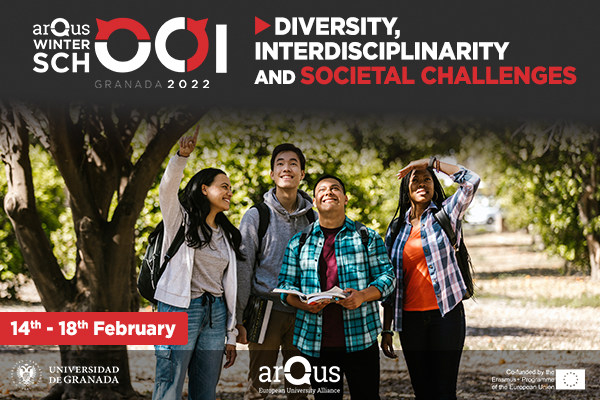 The University of Granada organises the Arqus Winter School 2022 on diversity, interdisciplinarity and social challenges
After the success of the first edition, coordinated by the University of Bergen and finally held remotely due to the COVID-19 pandemic, the University of Granada is organising the second edition of the Arqus Winter School from 14th to 18th February 2022, under the title "Diversity, interdisciplinarity and social challenges".
The Winter School, framed within Action Line 7, brings together 6 students from each of the 7 Arqus universities. It aims to equip these students with interdisciplinary research ideas, skills and resources so that they can develop group research projects in the areas of diversity, interdisciplinarity and social challenges in each Arqus city.
The School is the start of a unique educational journey and a high-impact internationalisation experience for students. They will be able to engage in reflection on what it means to be a European citizen, and how this citizenship is being driven by societal challenges.
The principles of the applied educational approach are:
Challenge-based research.
Interdisciplinarity.
Student leadership and citizen engagement.
Undergraduate, except first-year, and Master's students from all disciplines can participate in this great initiative of the Arqus Alliance. This activity may be recognised with a maximum of 6 credits.
This year's Programme, which can be downloaded here, focuses on 5 main themes:
Setting the context: Diversity and citizenship in a complex world.
Human and social diversity.
Biodiversity and geodiversity.
Making connections: Diversity in coastal environments.
Engaged European citizenship in a diverse world.
It includes the following activities:
Lectures, debates and round tables.
Workshops presenting practical tools to address the challenge-based learning programme.
Thematic excursions to experience diversity and interculturality through field experience.
For more information, go to Winter School 2022 or Arqus Collaboratory Programme 2022.