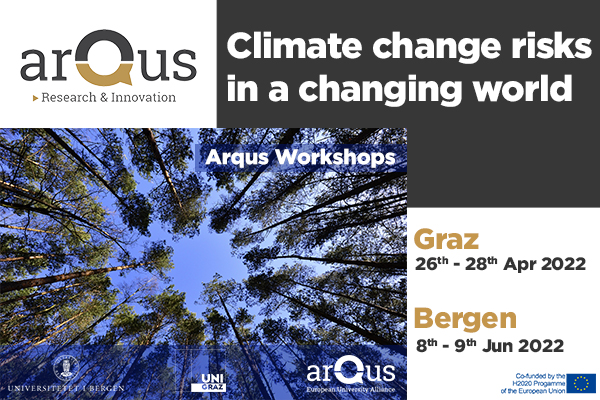 Call for applications for the 2 workshops on climate change that will be organised in Graz and Bergen
The Alliance invites researchers interested in network building and new collaborations around climate change-related issues to participate in the Arqus RI workshops on climate change. The first workshop will take place in Graz (Austria) from 26th to 28th April and the second one in Bergen (Norway) from 8th to 9th June. In these workshops, participants will share ongoing research projects and priorities, identify prioritized research topics for the future, and discuss concrete ideas for research projects and open funding calls.
Climate change poses many risks, including natural, societal, and transformational risks. Most obvious are the natural risks that are based on temperature increase and changes in climatic patterns such as increases in severe weather events, changes in ecosystems and biodiversity loss, sea-level rise, and climate tipping points. Many climate change impacts also have posed or will pose great risks to our societies, including increasing risk exposure for vulnerable populations and political instabilities exacerbated by changes in resource availability.
To mitigate climate change impacts, we need a deep and rapid transformation towards a low carbon society. However, disruptive societal transformation also involves risks, unintended consequences, and (in some cases) undesirable feedback loops. Societal responses to climate change impacts can create additional risks, especially if those responses exacerbate current inequities and power imbalances. We need to identify and explore desirable and equitable societal pathways to respond to climate change.
In order to respond to these challenges, we must better understand them. The Arqus RI workshops will bring together researchers from across the seven Arqus universities to exchange research ideas and explore the potential for collaboration. The workshops are open to researchers from all disciplines.
In the first workshop (Graz, Austria) we plan to share knowledge and ideas on research concerning natural and societal risks and develop a better understanding of how they might be related. The second workshop (Bergen, Norway) will build on the results of the first workshop, through further explorations of how risk informs societal transformation and pathways for mitigation and adaptation. Together these workshops will enable researchers to explore climate change risk from multiple disciplinary perspectives and provide a forum for exchanging research ideas and interests within this overarching theme.
The registration deadline is 25th February. Spaces are limited, so we encourage people to sign up early. These Arqus events strive to include a balance in participation from the member universities. If registrations exceed available spaces, then organizers will select participants based on their home university and expertise.
To register click here.
If you have any question, please contact to Harald Stelzer (University of Graz) at harald.stelzer@uni-graz.at and Brooke Wilkerson (University of Bergen) at brooke.wilkerson@uib.no.