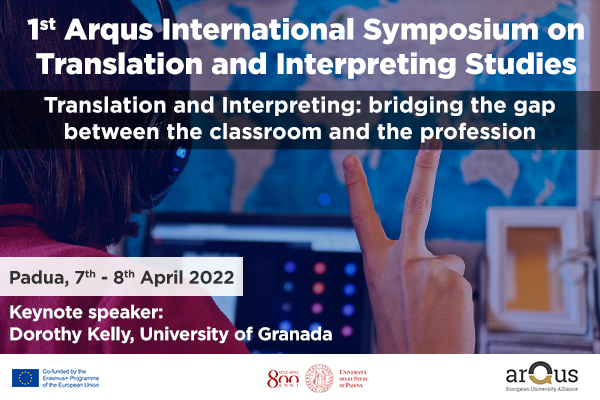 Call for papers for the 1st International Symposium on Translation and Interpreting Studies
On the occasion of its 800 anniversary, the University of Padua will hold the first Arqus International Symposium on Translation and Interpreting Studies on 7th and 8th April 2022 in Padua (Italy). This symposium aims to be a forum for researchers in Translation and Interpreting from the Arqus universities.
After working online for almost two years due to the Covid-19 pandemic on the design and implementation of multiple degrees in Translation Studies (forthcoming), the symposium will offer the opportunity to meet in person and exchange opinions and research interests.
The symposium will be open only to researchers from Arqus universities. The languages of the symposium will be French, Italian, Spanish and English. It will combine keynote lectures and panel sessions organised around the topic of 'Translation and Interpreting: bridging the gap between the classroom and the profession'. Contributions on the following topics are welcome:
1. Conference Interpreting.
2. Public Services Interpreting.
3. Legal Translation.
4. Certified and Sworn Translation.
5. Specialised Translation.
6. Audio-visual Translation.
7. Literary Translation.
8. Translation Technologies.
9. Translation Methodology.
10. Translation Competence.
11. Ethics in Translation.
Submission of proposals:
We welcome proposals for individual or collective contributions for the conference topics in any language of the symposium for 20-minute presentations. A maximum of one proposal may be submitted per author. It will be assumed that the language of the abstract (between 200-250 words excluding references) will be the language of the presentation. Participants are encouraged to prepare their PowerPoint in a language of the symposium different to the language of the presentation.
Proposals must be sent to: genevieve.henrot@unipd.it.
Important dates:
Submission of abstracts: before 28th January 2022.
Notification of acceptance: 18th February 2022.
Registration: 18th February 2022 – 20th March 2022.
Registration and practical information:
The registration process and other practical information will be available from February 2022.
Registration fees are as follows:
Full fee (presenters): 80€.
Reduced fee (presenters): 50€ (PhD students).
Early bird and attendants (registration before 6 March): 70€/40€.
Publication of selected papers:
Selected papers will be published.
For more information (keynote speakers, organising committee and scientific committee), please refer to the "Call for papers" and visit the symposium website.