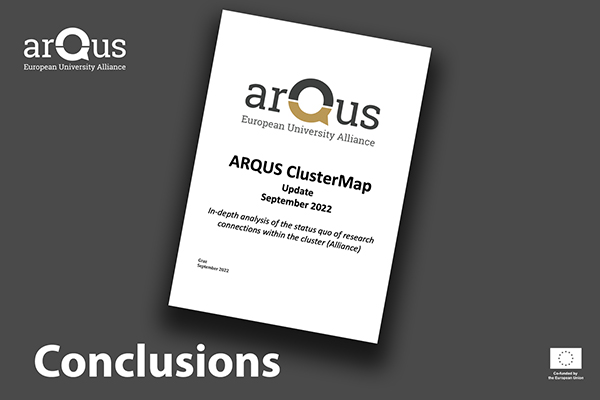 The ClusterMap analysis evidences that the Alliance is reinforcing the research capacity of the Arqus universities
Arqus has recently updated the Arqus ClusterMap, a document that includes an in-depth analysis of the status quo of the research connections within the Alliance updated to September 2022. The document focuses on the review of the data concerning Common Horizon 2020 (H2020) and Horizon Europe (HEU) projects as well as Common COST actions, the interdisciplinary research networks that bring together researchers and innovators to investigate a topic of their choice for 4 years.
The preparation of the ClusterMap has been a collaborative work process led by Philipp Weißert, from the University of Graz, together with the Universities of Bergen, Granada, Leipzig, Lyon, Padua and Vilnius. Most notable, the ClusterMap shows that, from 2014 to 2019, before the start of the Alliance, Arqus partners had 13 joint H2020 projects. In the remaining 1,5 years of H2020, Arqus obtained 17 more H2020 projects (not counting Arqus R&I). From FP7 (the previous research programme funded by the European Commission under the Seventh Framework) to H2020, the collaboration between Arqus partners increased from 20 to 30 (31 with Arqus RI) joint projects.
So far, Arqus partners have acquired 5 joint projects in the Horizon Europe framework programme. Out of them, 3 are funded through pillar 2 (2 in Health, 1 in Civil Security for Society) and two through pillar 1 (Research Infrastructures).
The data collected in the ClusterMap show that the Alliance is having a clear positive effect on improving the research capacity of the Arqus universities (individually and as a team) as measured by the increase in the number of approved large research projects in highly competitive joint calls in Europe. The large interdisciplinary workshops in major European priorities of Arqus RI, the Arqus Research Focus Forums, the EuREP platform to facilitate the sharing of research resources or the joint doctoral and post-doctoral initiatives implemented so far, are contributing to a strong research collaboration within the Alliance and with European and global partners.
The foundations laid between 2019 and 2022 have allowed the achievement of major milestones in the Arqus research and innovation area. The new Arqus Work Plan for the period 2022-2026 aims to keep working on the consecution of critical results such as the adoption and implementation of a Joint Research Action Plan, a reinforced joint catalogue and access to research infrastructure or the enhancement of external stakeholder participation in Arqus activities.