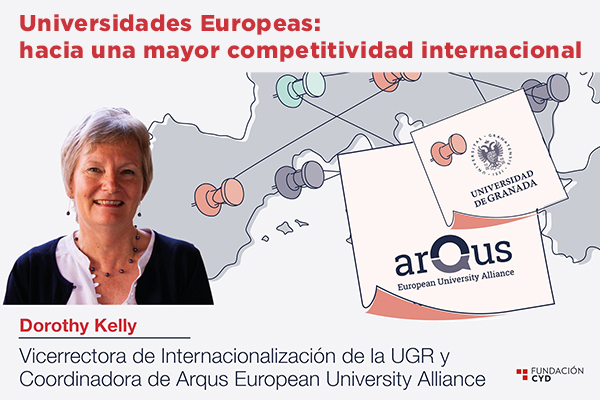 Dorothy Kelly participates today in a virtual debate on European Universities organised by the Fundación CYD
Today, 24th February, from 12 pm CET, the coordinator of the Arqus Alliance and Vice-Rector for Internationalisation of the University of Granada, Dorothy Kelly, participates in a virtual debate organised by the Fundación Ciencia y Desarrollo (Fundación CYD) on the European Universities initiative.
The debate under the title "Universidades Europeas: hacia una mayor competitividad international" ("European Universities: towards greater international competitiveness") aims to highlight the steps taken by the European Commission, the Spanish and European universities and the member states to face the current global challenges by increasing the resilience, excellence, attractiveness and international competitiveness of European higher education institutions.
The round-table will also count with the participation of Alfonso Gentil (Director of SEPIE), José Lorenzo Vallés (Head of the European Higher Education Unit at the European Executive Agency for Education and Culture), Matilde Sánchez (Vice-Rector for Internationalization and European University at the Carlos III University of Madrid, YUFE) and Fernando Tapia (Vice-Rector for Students and Employability at the University of the Basque Country and responsible for the European University Enlight). The debate will be moderated by Melina Díaz, Head of Communications at Fundación CYD.
During this virtual meeting, the Alliances will discuss their objectives, progress achieved and future challenges. It will also analyse the strategic and competitive advantages that this initiative represents both at European and Spanish level and individually for each university.
To participate please register through the following link.