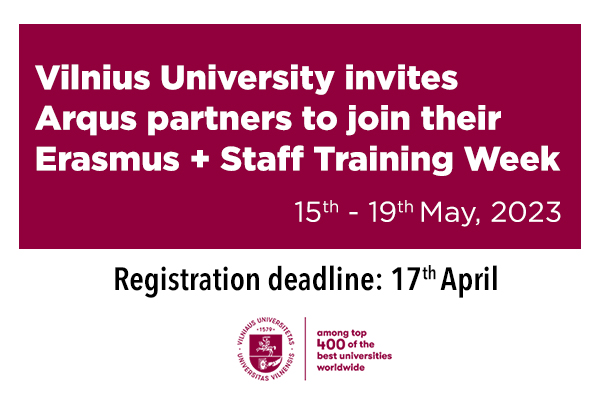 Vilnius University invites Arqus academics and professional staff to join the Erasmus + Staff Training Week
Vilnius University
|
14 Apr 2023
Vilnius University invites colleagues from Arqus universities to attend the Erasmus + Staff Training Week. The 5-day event will take place at Vilnius University (VU) from 15th to 19th May 2023 and is aimed at academic and administrative staff of partner universities from non-EU and EU countries to get to know more about VU, to enhance intercultural competence and communication skills, to experience this university's campuses and the local culture.
The first training day (15th May) will be dedicated to the historical and cultural heritage of VU. This day's activities will include a bit of Lithuanian history, language and culture as well as two guided tours through VU old campus and library during the day and through Vilnius city at night.
During the second training day (16th May), the participants will visit the Saulėtekis campus. Later the interactive discussion "Sustainable development goals and role of the University" will be followed by another guided tour through Scholarly Communication and Information Centre.
The workshop "Intercultural communication: challenges, obstacles and creative solutions" will take place in the third training day (17th May).
On the fourth training day, the attendees will go on a trip to VU Šiauliai Academy. Participants will visit the Chocolate Museum and take a guided tour through the Old Town of Šiauliai.
The last day of training (18th May) is reserved for the closure session and delivery of the certificates.
Registration for this event is open until 17th April through this online form. Participation is limited to 1 person from each university of the Arqus alliance.
For more information please contact skirmante.savickaite@cr.vu.lt