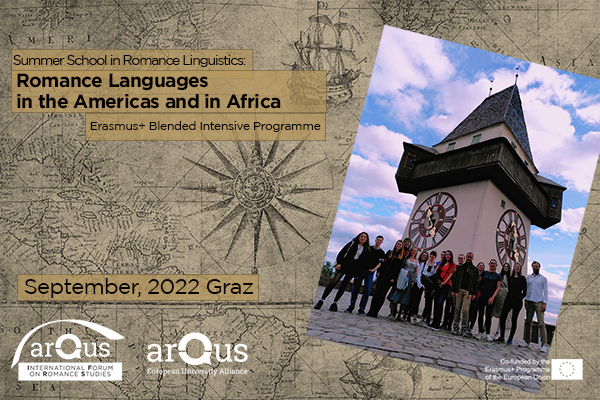 Great success of the first edition of the Arqus Summer School on Romance Linguistics hosted by Graz!
From 19–24 September 2022 the Arqus Summer School in Romance Linguistics "Romance Languages in the Americas and in Africa" was hosted by the University of Graz. Bachelor's and Master's students from the Universities of Granada, Graz, Bergen, Vilnius, Munich and Augsburg successfully attended the classes.
The summer school consisted of three modules, which were laid out according to the principles of a blended intensive programme: a preliminary online module from 1 to 14 September 2022, as well as the general module and the research module, the latter both held at the Department of Romance Studies of the University of Graz from 19 to 24 September 2022.
Renowned experts from the Universities of Utrecht, Santiago de Chile, Graz, Salvador de Bahía, Cádiz, Augsburg, Granada and Bergen taught various classes, e.g., on the morphosyntax of Portuguese and Spanish in Southwestern Africa, sociolinguistics and the lexicon of Spanish in the Caribbean and in Chile, forms of address in Spanish and Portuguese on both continents, and syntactic change in Italo-Romance emigrant varieties in Southern and Northern America in contact with other languages. In a very interactive environment, the students were also made familiar with modern methods in linguistic fieldwork.
Previously, during the online module, the students received an introduction to the overall topic and the historical background of Spanish, Portuguese, and Italian in Africa and in the Americas.
In the concluding research module, the students worked in small groups on their own to carry out guided research tasks on specific topics, supervised by the teaching personnel.
Extracurricular activities included a guided walk in the UNESCO World Heritage historic center of Graz and a final excursion to the Styrian countryside.
The summer school was multilingual, and courses were taught in Spanish, Italian and Portuguese, aiming at improving the inter-comprehension skills of the students.
The detailed programme of the event can be downloaded here.
The Summer School is part of the permanent activities by the international network Arqus International Forum on Romance Studies (AIFRS). A follow-up edition will take place in Granada in September 2023.