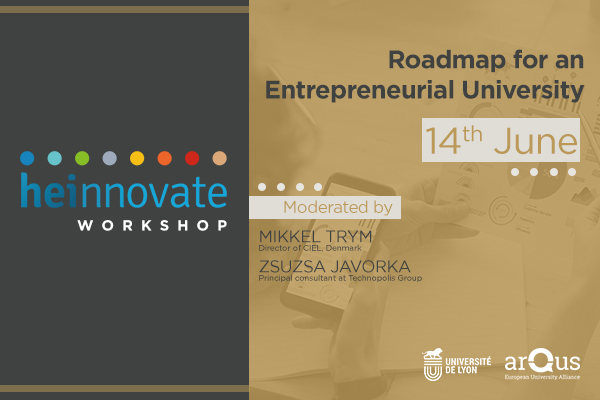 Arqus organises a common HEInnovate workshop with key internal university stakeholder groups
As part of the Arqus Alliance project, the first action of AL5 "Entrepreneurial University and Regional Engagement", endeavours to make governance open to entrepreneurship through the use of the HEInnovate evaluation tool. This auto-evaluation tool has already been used to evaluate and benchmark the innovative and entrepreneurial attitude at each university.
Next Monday, 14th June, Arqus is organizing a common HEInnovate workshop with over 40 participants from key internal university stakeholder groups (students, administrative staff, academic faculty, upper management, TTOs…).
The session will be moderated by external HEInnovate experts:
-Mikkel Trym – Director of CIEL, Denmark
-Zsuzsa Javorka – principal consultant at Technopolis Group
Through a process established by these experts, the participants will discuss and brainstorm together in order to:
-Understand the results of the self-assessment and prioritise dimensions
-Identify opportunities, existing best practices and key enabling factors
-Action plan along with the priority areas
-Create a joint action plan
Based on the results of this workshop, a concrete roadmap for Arqus to become an entrepreneurial university will be drafted, with the aim of implementing new strategies and actions to make university governance policy and approach more entrepreneurial.