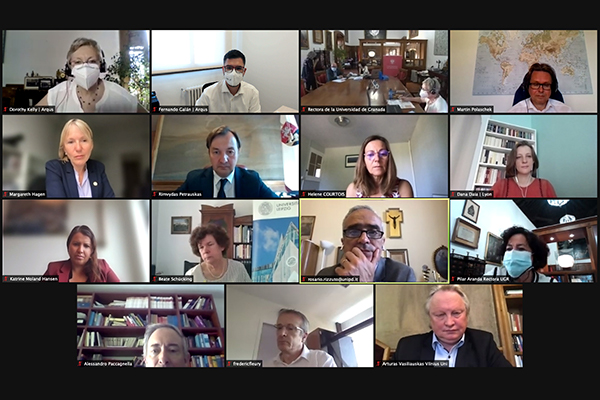 The rectors of the seven Arqus universities held today the third Arqus Rectors' Council meeting
Following their last meeting in November 2020, the rectors of the seven Arqus universities have come together today in an on-line meeting to take stock of the first period of the Alliance's activity and discuss future plans.
Just as the Alliance has reached the halfway mark of the first Erasmus+ Work Plan, one and a half years through the three years of this first phase, this meeting, chaired by Rector Rimvydas Petrauskas (Vilnius University) focused on summarising the progress, successes and challenges as seen from each partner institution, and looking to the future of this ambitious collaborative initiative. The meeting has offered a special opportunity for stock-taking and self-evaluation, closely linked to the commencement of preparations for the next funding period under the new Erasmus+ programme.
"At this meeting, we aimed to set the timeline for decisions which we will have to make about the future of Arqus. This will help us to move ahead with the Alliance towards the truly strategic partnership that will be co-shaping the future of each partner university. The meeting has laid a strong background for the decisions regarding the composition, structure, focus of activities and main indicators of our alliance to be made at the Rectors council meeting at Vilnius this Autumn", affirms Rector Rimvydas Petrauskas.
This meeting follows a round of bilateral conversations held between the Coordination Team and all seven Arqus rectors.
"Both the preparatory round of meetings and today's formal Council meeting have provided extremely valuable food for thought, critical appraisal of work and achievements so far, laying the basis for revised focus in the future, in the light of proposals from the European Commission regarding the future of this initiative, but also and very importantly from the perspective of the institutional strategies of each partner institution and how Arqus serves them", says Dorothy Kelly, Coordinator of the Alliance and Vice-Rector for Internationalisation at the University of Granada.
Prof. Kelly took this opportunity to thank all seven rectors for the huge effort made by their teams to fulfil the ambitious work plan of the Alliance in the very difficult circumstances provoked by the pandemic.
The next Arqus Rectors' Council meeting will take place, hopefully in person, during the Arqus Annual Conference to be held from 4th to 7th October at Vilnius University.