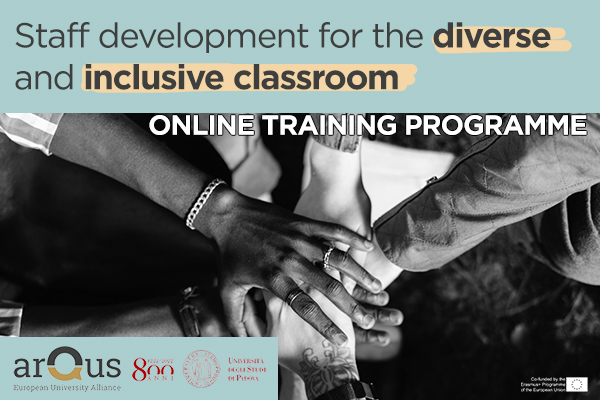 The Inclusive Higher Education Online Training Programme developed by the University of Padua opens tomorrow
University of Padua
|
02 Mar 2022
The Arqus Alliance launches its first Inclusive Higher Education Online Training Programme with the aim of preparing its staff for the diverse and inclusive classroom. The Programme, developed by the University of Padua's research team led by prof. Laura Nota, starts tomorrow, 3rd March, with a kick-off meeting where the objectives, structure and content of the training will be presented by a local facilitator.
Background and objectives of the Programme
In the context of higher education, teaching has an essential value and its inclusive dimensions are nowadays paramount for the training of future citizens and professionals, in order to make sustainable and inclusive societies flourish. Based on the awareness that we are living in a context of uncertainty, complexity and change, globalisation and inequality, the Programme, strictly connected to the 2030 Agenda (in particular to Sustainable Development Goal n.4: ensure inclusive and equitable quality education and promote lifelong learning opportunities for all.), aims at developing inclusive teaching skills that take into account the heterogeneity that increasingly characterize educational and training contexts, students, and those who participate in university classrooms.
The training, engaging small groups of teaching staff, will be held online at the local level in each of the Alliance universities from March to May-June 2022.
At the end of the proposed training Programme, the participants will be able to design and conduct teaching activities that give value to complexity and heterogeneity. They will be able to develop a teaching program focused on equal opportunities and the presumption of competence. They will consider it possible to favour skills and abilities thanks to appropriate conditions, giving an active role to all learners, looking for original solutions, and personalizing proposals and supports.
Download the structure and content of the Programme here.