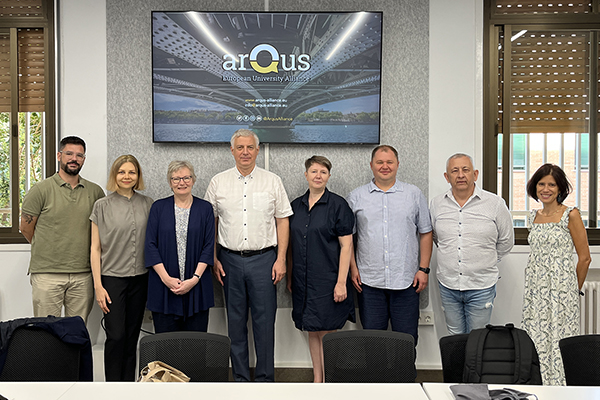 A delegation from the National University of Kyiv-Mohyla Academy visits the University of Granada this week
The National University of Kyiv-Mohyla Academy (NaUKMA), an associate partner of the Alliance, will spend the week meeting the Alliance Coordinators and different bodies and units of the University of Granada.
The delegation, consisting of the President of the University, the Vice-Presidents for Academic Affairs and for Research, the Dean of the Faculty of Computer Sciences and the Head of the International Office, will participate in a series of meetings with the Rector of the University of Granada and his governing team, with the coordination team of the Arqus Alliance as well as with academic and research staff and directors of different services and units at the University of Granada. The visit will serve to establish concrete measures for the participation of NaUKMA in the various work plans of the Alliance.
The visit forms part of the "Arqus for Ukraine" programme, funded by the Polish national agency for academic exchange NAWA, through the University of Wrocław (Poland), a member of Arqus.
The National University Kyiv-Mohyla Academy of Ukraine joined the Arqus Alliance as a new associate partner last September 2022. A Task Force was then created by members of the Alliance and NaUKMA, in order to explore concrete activities and actions with short-term objectives as well as a long-term strategy to collaborate with this new associate partner and integrate it in the Arqus Work Plan.
The partnership brings new opportunities for the Alliance to support Ukrainians and Ukrainian higher education through direct collaboration with this leading research and autonomous university.
Dorothy Kelly, Arqus Coordinator, has stated that "the visit of our partner from Ukraine, the National University Kyiv-Mohyla Academy, to Granada to meet with the Alliance coordination and numerous UGR authorities underlines our strong commitment and unwavering effort to reinforce close cooperation with this institution, as well as our firm intention to promote further involvement of its community of students, academics and professionals in the diverse working groups of the Arqus Alliance. We are well aware of the devastating consequences for life and, specifically for the university sector, of the invasion of Ukraine by Russian armed forces. Our main goal is that this cooperation will progressively lead to joint learning, mobility and research projects that will increase educational and personal development opportunities for Ukrainian youth and academics, helping them to recover as quickly as possible".
Since the beginning of the invasion of Ukraine, Arqus universities have taken a very active role in carrying out a concrete programme of joint and individual measures to support the citizens of this country and, especially, its academic communities. Arqus also endorsed the statement published by the 41 European University Alliances, calling for the restoration of peace, democracy and respect of human rights in this country.