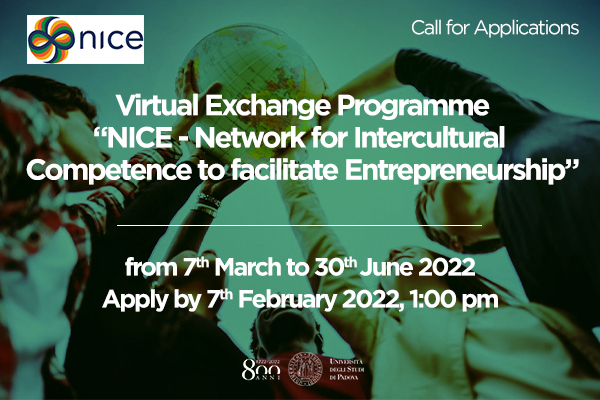 The University of Padua calls Arqus students to participate in the Virtual Exchange NICE Programme and become entrepreneurs
The University of Padua opens a call for applications for the Virtual Exchange Programme "NICE – Network for Intercultural Competence to facilitate Entrepreneurship", which is open for the first time also to 10 students belonging to Arqus partner universities. The programme will be held from 7th March to 30th June 2022.
NICE originates from an international Erasmus+ project involving several European universities. It is a multi-university virtual learning programme designed to help students develop in-demand intercultural and entrepreneurial skills.
"We believe that students who learn to work together, learn to work better"
Therefore, students will be offered the opportunity to work with an international student team to solve a Global Challenge. They will also work through online modules focused on intercultural and entrepreneurial competence, with the aim to foster their future competitiveness in the labour market.
The duration of the Programme varies according to the course chosen, which may last from a few weeks to a whole semester. They do not need to physically move to another university, nor find the time or financial resources for it, but just to:
Have access to a computer and an internet connection.
Master the lingua franca (usually the English language).
Get past their "comfort zone".
Apply here until 7 February 2022 at 1 pm CET. The full call is published here.
For further information, please visit the NICE Programme website or contact Laura Brandolin (international.projects@unipd.it).