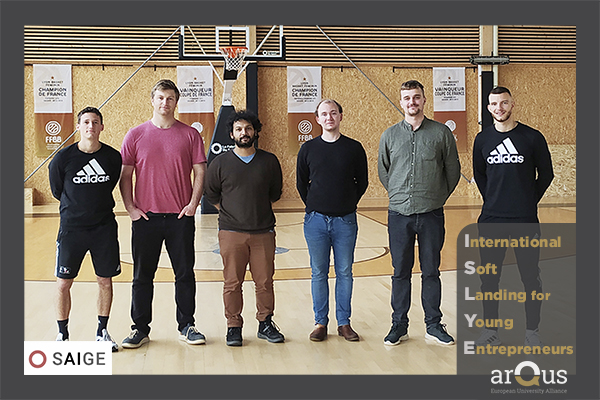 The Saige Analytics team from Leipzig visits Lyon's incubator within the Arqus ISLYE 2021-22 mobility programme
The Arqus ISLYE (International mobility for young entrepreneurs) programme for student entrepreneurs aims to offer international mobility opportunities between incubators (in collaboration with higher education institutions), to student entrepreneurs through partnerships based on the principle of reciprocity, in order to support them in the development of their internationalisation strategy.
Saige Analytics from Leipzig was one of the 8 selected teams to participate in the 2021-22 programme and chose to have their mobility to Lyon's incubator from 29th November to 3rd December. Accompanied by a dedicated mentor from Lyon's local ecosystem and the incubator staff, the 4 team members had a busy and interesting week with sessions to work on 3D printing and product design, discussions with AI researchers and specialists, other entrepreneurs, visits of rugby clubs (LOU, Stade Métropolitain), the Tony Parker Academy, and of course a city tour.
The team was very satisfied with their mobility as in addition to the networking opportunities, this also helped them to make decisions on a couple of strategic topics. They hope to begin international operations in the next nine months and would like to return to Lyon in 2022 in order to continue building on some of the relationships they began during this visit.
The next Arqus ISLYE mobilities will take place in 2022.