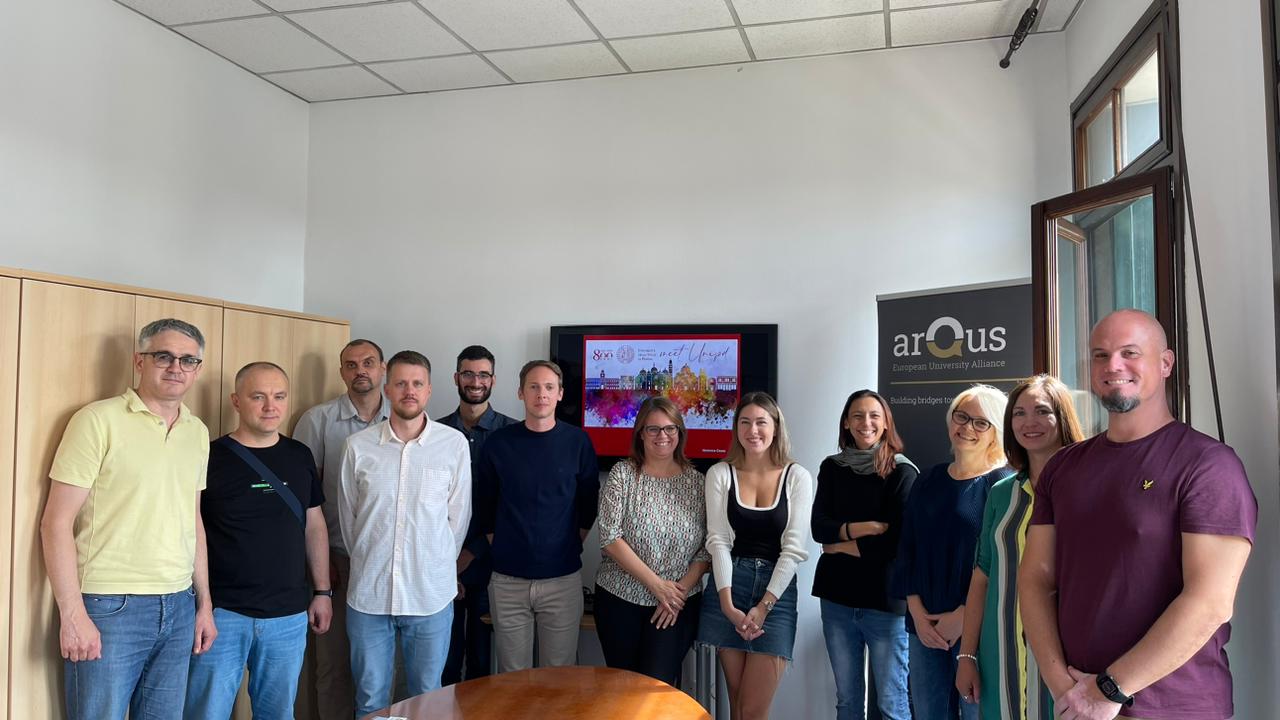 Padua hosts a delegation of Ukrainian members within the "Arqus for Ukraine" project
The University of Padua is receiving this week a delegation of Ukrainian academic and non-academic staff members coming from two of the higher education institutions involved in the Arqus for Ukraine project, coordinated by the University of Wrocław (Poland) and funded by the Polish National Agency for Academic Exchange NAWA.
The delegation consists of seven people coming from the Yuri Fedkovych National University of Chernivtsi and the Taras Shevchenko Kyiv National University. During their stay, they are being accompanied and supported by the Arqus staff and are visiting different services and units at the University of Padua (Unipd).
The group was welcomed on Monday by the Arqus coordination team at this Unipd and by other colleagues who are involved in various initiatives that the University of Padua is promoting in support of Ukraine. The delegation was introduced to the Unipd-4-Ukraine initiative and to the People at Risk group – created in March 2023 with the aim of supporting not only refugees and asylum seekers, but all students at risk due to situations that prevent freedom of study and research in their home countries. Besides, the delegation discussed opportunities for further partnerships between Unipd and Ukrainian institutions within the Erasmus+ KA171 action. The lecturers will have the chance to meet the founders and coordinators of the Scholars at Risk Italy section, which is particularly active in the support for researchers and academics at risk.
On Monday night, our Ukrainian colleagues were invited to the Welcome Party for incoming students, an open event with a live concert in a public park. The delegation will also visit the historic university premises at Palazzo Bo, the Botanical Garden, and other sites and university museums in Padua.
From the very start of its activities, Arqus has always been very active in the support for students and scholars at risk: during the first stage of Arqus (2019-2022), the "Arqus integrated plan for refugees and students at risk" was developed. During the current funding period, the Alliance is carrying out different initiatives in support of students and scholars at risk through the "Arqus Inclusion and Diversity Hub" initiative. The team of this Hub recently finalised the first version of the "Arqus action plan to support students and scholars at risk – with focus on Ukraine". Besides, it prepared and disseminated a survey targeting Ukrainian students who studied abroad during the 2022-23 academic year, with the aim of collecting their experiences, insights and recommendations on the support structures offered by their host universities.