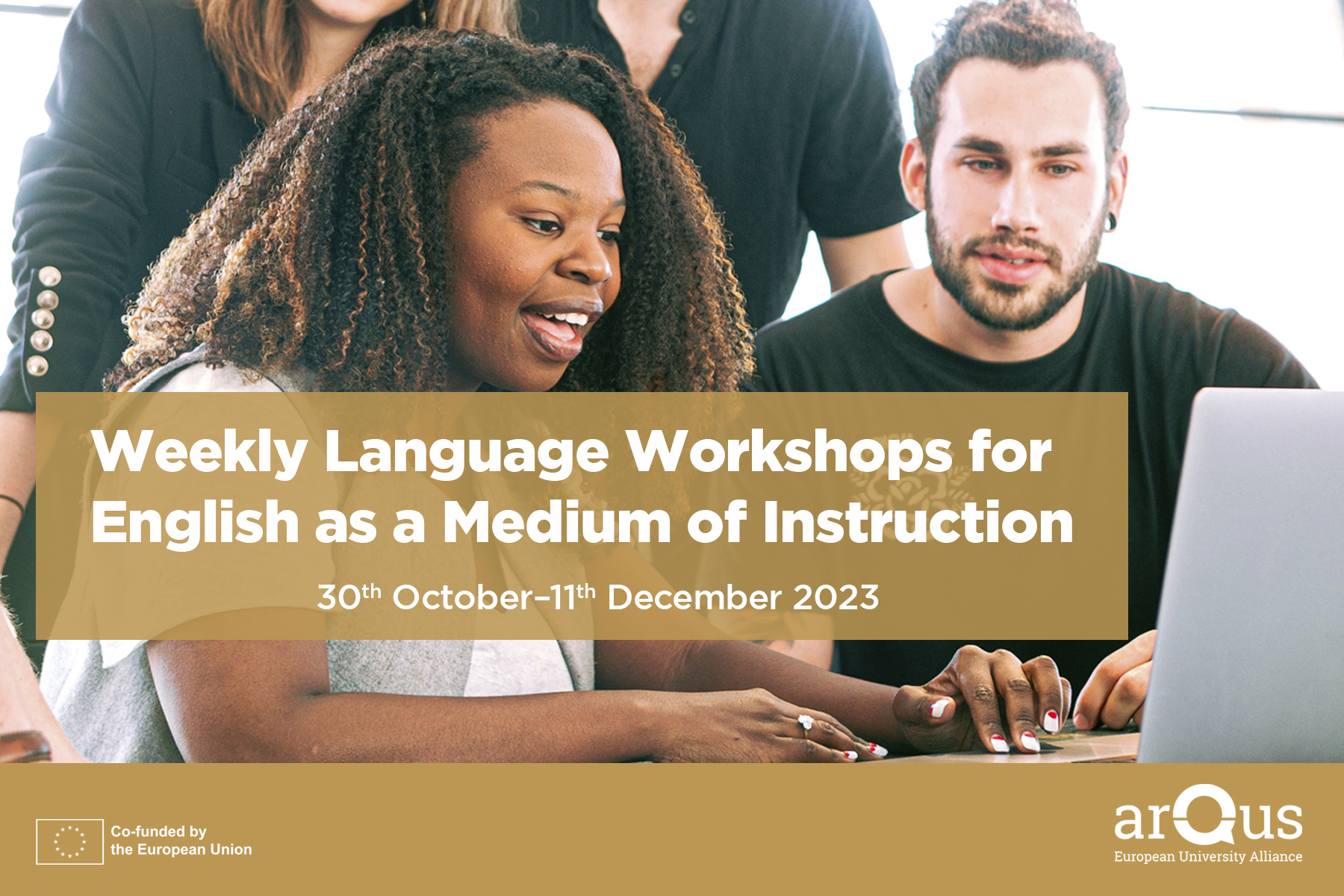 Register now for Weekly Language Workshops for English as a Medium of Instruction!
Many teachers working at Europe's higher institutions of learning today are faced with new challenges as they begin to teach their core subjects in English. Successful classroom learning requires leadership and engagement that not only stimulates student participation but also facilitates comprehension. For these purposes, language teachers and academics engaged in EMI (English as Medium of Instruction) may wish to boost their own language skills and exchange ideas with international colleagues in the context of a virtual mobility. This workshop series is designed to address these needs and more.

In each 90-minute session, participants will have the opportunity to practice various language skills and gather new inspiration for their teaching curriculum.

Together, we will look at elements of academic writing such as cohesive devices and discourse markers and will also address the challenges posed by vocabulary and grammar. Participants will have the opportunity to improve their overall fluency while practicing interactive communication skills.

Registration is open to all professors, lecturers and instructors, as well as graduate students and administrators with teaching responsibilities who work at an Arqus University. Please note that due to high demand, we will only be able to accept a limited number of participants per university.
Register starts on 9 October. A few days before each workshop, you'll receive a confirmation email that will inform you whether or not you have received a place and that will include the Zoom link. Certificates of participation are available upon request for those who attend all six sessions.
Workshop series schedule:
Teaching Cohesive Devices in the EMI Classroom
Monday, 30 October 2023
2:30 pm–4 pm (CET)
In academic texts, cohesive devices serve to link ideas and create a logical flow with and between sentences. In this workshop, we will explore the role that cohesive devices play in the creation of academic texts and presentations and practice strategies for teaching these important linguistic elements in the classroom.
Writing Skills for Teaching in English
Friday, 10 November 2023
10:30 am–12 pm (CET)
In this workshop, participants will deepen their understanding of specific writing issues that comprise the core of advanced academic English language and content courses. In particular, this workshop will focus on writing and editing practice for assigning and correcting
Vocabulary for the EMI Classroom
Monday, 13 November 2023
2:30 pm–4 pm (CET)
University students and lecturers have become increasingly aware of the need to acquire the necessary disciplinary language needed for academic success. In this workshop, we will explore ways to improve lexical choice and range in regard to subject-specific course content.
Improve Your Fluency for Teaching in English
Monday, 20 November 2023
2:30 pm–4 pm (CET)
In this workshop, we will produce a short list of language issues that students need for academic success with a focus on interactive communication and pronunciation for advanced language practice.
Focus on Grammar in Advanced Language Courses
Friday, 8 December 2023
10:30 am– 12 pm (CET)
This workshop is designed for teachers who want to fine-tune their understanding and use of advanced English grammar in the university classroom.
Interactive Skills Practice in the EMI Classroom
Monday, 11 December 2023
2:30 pm– 4 pm (CET)
What is interactive teaching? In this workshop, we will practice ways that student input and teacher responses are best facilitated within the ongoing classroom discourse. The focus of this workshop will be on interactive speaking skills practice.