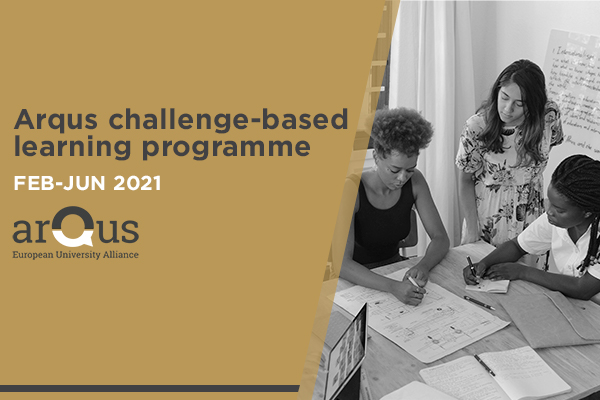 More than 60 students participate in the first Arqus challenge-based learning programme
On 18th June, the first Arqus challenge-based learning programme was concluded with a zoom event gathering students from all seven Arqus universities. This programme has run in parallel at the seven institutions throughout the spring semester. The Arqus challenge-based learning programme is part of the Arqus collaboratory programme that started at the end of last year. It belongs to the Arqus Action Line 7, Engaged European Citizens, which is led by the PhD candidate Jakob Grandin at the Univesity of Bergen.
The participating students provided a brief presentation of how the Challenge Based Learning programme had been organized at their universities and shared highlights from their project work.
The intention was to set students in contact with each other, to present an opportunity for sharing their experiences of working in interdisciplinary teams and dealing with a complex research topic. The students engaged enthusiastically in the cross-institutional discussion and delivered insightful and reflexive recommendations, says Helene Nilsen, postdoctoral fellow and part of the AL7 team at UiB.
The students were invited to reflect on their process and outcomes in international mixed groups. The group discussions were loosely organized around questions of lessons learned, how to compare findings across local contexts, identifying differences and commonalities. Lastly the students were invited to present their recommendations for climate risk governance in Europe.
Challenges and benefits of interdisciplinary research such as the experience of learning new methodologies and encountering new perspectives were shared across the institutions. The discussion also opened for exchanging insights about the specific local contexts on policy level as well as on a scientific level.
We were excited to see the diversity and variation of research topics, approaches and outcomes under the headline of Rethinking Climate Risks, and impressed with what students had been able to achieve in a relatively short semester and taking into account all restrictions following the pandemic, says researcher Scott Bremer, who concluded the event.
This workshop will function as a starting point for further elaboration in a student-led forum to be organized in the fall of 2021.
Original news by Evelyn Myrå Holmøy, Universiy of Bergen.