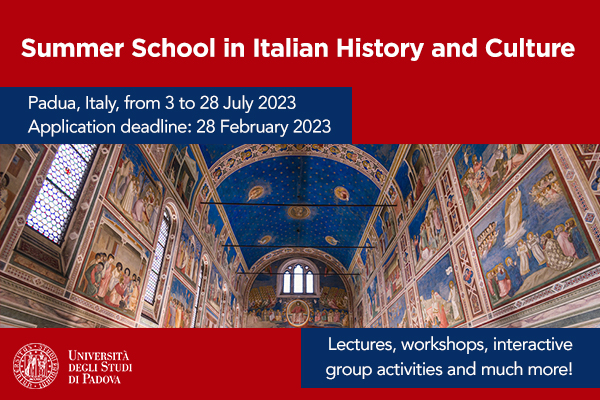 Participate in the Summer School in Italian History and Culture in Padua!
University of Padua
|
31 Jan 2023
The Department of Historical and Geographic Sciences and the Ancient World of the University of Padua invites Arqus students to participate in the Summer School in Italian History and Culture that will take place from 3rd to 28th July (4 weeks) at the University of Padua.
The School is open to Bachelor students (2nd year onwards) and Master students (1st year). The Course will include lectures, workshops and interactive group activities and it will grant the participants with 6 ECTS. Courses in Italian language will also be offered as part of the School.
The deadline for applications is 28th February 2023 at the following link.
At the time of the application, students will have to upload an updated CV, a motivation letter, the transcript of records and an English certificate (B2 level or higher). Proficiency in Italian is not required, although it is recommended that participants indicate their level in this language. Notification of acceptance will be sent by 30th March 2023. Where available, students' participation in the course could be covered with the Turing Scheme funding.
For more information about course contents, application form and fees, please refer to this website or contact the Department of Historical and Geographic Sciences and the Ancient World at summerschool.dissgea@unipd.it