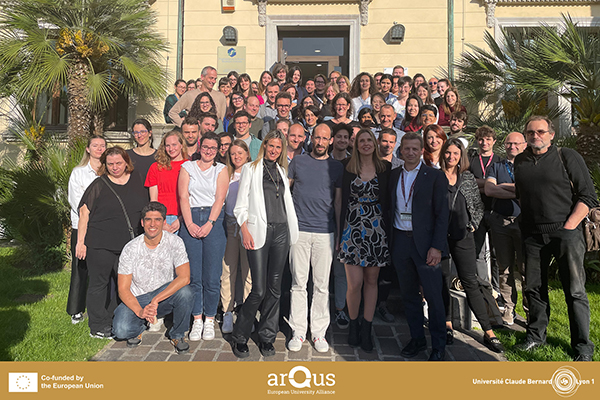 Lyon 1, co-organiser of a symposium on the neuromuscular system in Padua
Université Claude Bernard Lyon 1
|
15 May 2023
The 1st Symposium between the Universities of Lyon 1, Padua and Lausanne and the Nestlé Institute of Health Sciences (Lausanne) took place at the Veneto Institute of Molecular Medicine (VIMM) in Padua on 27th and 28th April.
This symposium, organised in the framework of the Arqus Alliance with the involvement of the Universities of Lyon 1 and Padua, aimed at bringing together scientists working on different topics in the context of the neuromuscular system (e.g. calcium, mitochondria, autophagy, gene regulation, tissue repair and homeostasis).
Following a call for oral and poster communications launched in March 2023, more than 40 abstracts were received; a success for this first edition. A total of 18 academics participated from the University of Lyon and 43 from the University of Padua.
Professor Stephano Schiaffino, one of the key stakeholders in the field, was the guest of honour at the event. He opened the symposium with a very inspiring lecture for the young researchers in the audience.
One of the objectives of this event was also to stimulate scientific exchanges in order to enlarge research networks, to collaborate with new partners and to increase scientific visibility as well as the possibility to receive financial support through joint proposals (from the European Union or the PRCI programme of the National Research Agency – ANR for example).
In addition, the symposium was an excellent opportunity to present the "MuSkLE" initiative (part of the Structuration de la Formation par la Recherche dans les Initiatives d'excellence – SFRI led by the University of Lyon 1) to the participants, in particular the 2nd edition of the summer school which will take place from 25th to 30th June 2023. It also promoted other scientific events that could further increase exchanges between Arqus Alliance scientists such as:
The 11th Scientific Days on Autophagy organized by F Strappazzon (CR, CNRS Lyon) and C Kretz (Prof of the University of Lyon 1) at Lyon next November (8th -10th November 2023), a meeting that will focus on autophagy, a crucial process for muscle homeostasis.
The 20th "Journées de la Société Française de Myologie" in la Baule (15th- 17th November 2023).
The EMBO Workshop 2024 "Skeletal Muscle Development, Metabolism, and Repair during Homeostasis and Disease" organized by R Mounier (DR, CNRS Lyon) and M Sandri (Prof of University of Padua) in April 2024 in Sicily.
During the symposium, the participants had also the chance to visit the Palazzo Bo (Palazzo del Bo in Italian), the historical seat of the University of Padua since 1493. It houses the oldest anatomical theatre in the world.